Health insurance is confusing and co-pays are the worst. Does your plan cover specialists? Will you have to pay a small fortune just for a consultation? If questions like these have been preventing you from tackling skincare issues like acne and aging, meet hers. This game-changing new company is making prescription-strength products more accessible than ever.
We're especially impressed with their skincare range that includes highly effective treatments that target acne prone skin and skin that's beginning to show signs of aging.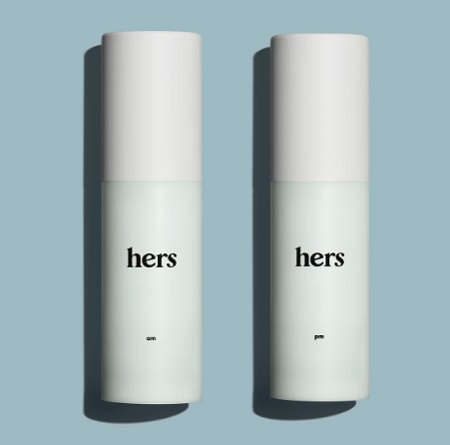 The Acne Kit includes two topical treatments–one to be used in the morning and the other for night–that help stop acne from reproducing, reduce inflammation and renew the surface of your skin by increasing cellular turnover. The result? Healthy, smooth skin without a minute wasted waiting in a doctor's office.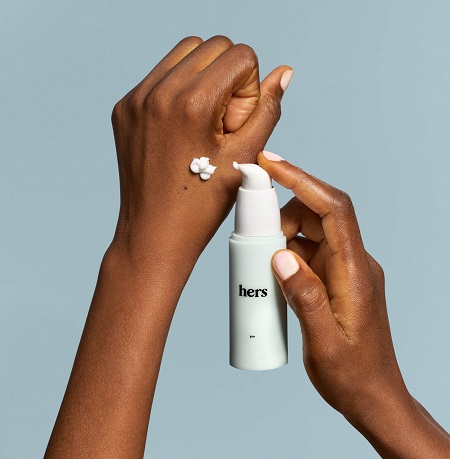 The Anti-Aging Kit makes light work of wrinkles and fine lines, while also giving the skin a firmer, plumper look and feel. The anti-aging cream is formulated with antibiotics to keep acne at bay, plus powerful retinoids like Tretinoin. That's the prescription-strength magic ingredient that delivers collagen directly to you skin to restore bounciness and glowiness. Yes, please!
Ready to be done with acne or aging skin for good? Ordering from hers is super simple. Just add the products to your cart and complete the checkout process as you would on any other site. After you've submitted your payment info, there's a quick and easy medical review that just involves answering a few questions (they're not hard). A doctor will review your info and unless there are any questions from the doc, your skincare products will be on their way to you within a few days. Pretty amazing, right?
If you're stressed you won't be able to afford skincare products this effective, relax! Both the Anti-Aging Kit and the Acne Kit are less than $50. Even better, hers is currently running a promo that allows you to get the acne and the anti-aging kits for only $10 for the first month. Just shop using the links below and your discount will be activated automatically.
The editors at SheFinds wrote this post on behalf of hers and received compensation as part of our agreement.