First, Chloé debuts Peanuts-inspired handbags named after characters in Charles Shulz's beloved cartoon. Smart move, we think — who wouldn't want to own stylish sheepskin leather bag named after sweet, intelligent sidekick Marcie? And now, Madewell is carrying this Something Else by Natalie Wood Sweater ($180) with a certain iconic zig-zag in a color scheme that Charlie Brown himself would wear (if you need a last-minute Halloween costume, it's totally apropos). We're not sure where this trend came from or why; maybe the next wave of collaborations will be cartoon-strip ones?
What do you think — would you wear these looks straight out of the iconic cartoon? Or would you feel like a, well, blockhead?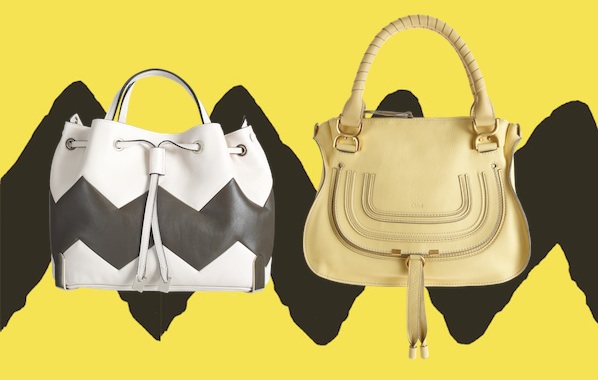 Chloe's Charlie Medium Zig Zag Patch Tote ($2,195) and Marcie Medium Satchel With Strap ($1,795).
Give in to your inner child, and check out some more cartoon-inspired fashion and beauty with these cosmetics (Miss Piggy! Smurfs!), Minnie Mouse x OPI nail polish and Hello Kitty x Vans shoes.