Although it's not K-Stew and Rob Pattinson, we were still excited to see Twilight star Nikki Reed's bling from fiance, Paul McDonald. The newly engaged starlet showed off her ring on the red carpet at the 2011 MTV Movie Awards in LA a few days ago. Check out her rock after the jump.
Jewelry expert Michael O'Conner told US Weekly that Nikki's ring was "a modern version of a platinum and diamond eternity ring that could also work as a stunning wedding band," and its estimated cost is around $30,000.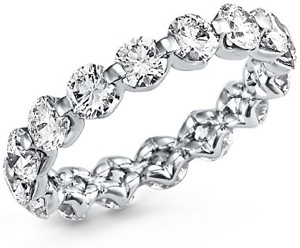 This Platinum Floating Eternity Ring is strikingly similar to Nikki's, but a fraction of the price. Time to start the hint dropping to your boyfriend!
Got the ring, need the rest? Shop our guides to the best strapless wedding dresses, white wedding shoes, and inexpensive wedding dresses now.