Is there anything more rewarding than stumbling across a new beauty brand and falling in love at first swipe? Of course, you have products that you know and love and will never stop using as long as you live, but there's just something thrilling about adding newness to your makeup bag.
If you're ready to refresh your makeup routine, here's a brand you need to try ASAP: Hikari Cosmetics. I recently had the chance to put their Lip and Cheek Stain and almost instantly it became one of the products I use almost daily.
Like most women, I love products that can multitask, so I had high hopes for this pigmented color stick that works double duty as blush and lipstick. Luckily, it didn't disappoint. I used a little on my cheeks to create a subtle sunkissed look and then swiped a bit more product on my lips for some stronger color. To my delight, this product is incredibly versatile. The color is nicely pigmented so you can easily apply more liberally to places you want maximum impact, but also use a more toned-down application for a more mellow wash of color. This Lip and Cheek Stain is definitely an essential in my makeup bag these days.
Here's more good news: not only does Hikari make loads of other cosmetics (foundation, eyeshadow quads, etc.), their products are also very affordable. The Lip and Cheek Stain that I love is only $15, which is really great for a product that can be used so many ways.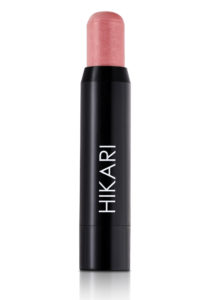 Lip and Cheek Stain ($15)
Be sure to also check out how to make sure your makeup brushes are clean and germ free and how to style black jeans.