Between preparing for Thanksgiving, Black Friday, and worrying about Christmas and New Years, one may forget about Cyber Monday. The deals keep on coming and you're sure to get some of the best ones online this year for Cyber Monday. If you're too busy this holiday and you think you might miss the Black Friday deals and other holiday discounts, don't fear! Cyber Monday is on its way and will bring just as many great deals as Black Friday.
H&M's Black Friday deals this year are unbelievable! With 60% off deals starting at $3 until the end of the day today, more deals are expected to follow. If you're excited about Black Friday deals coming up, don't miss the ones from H&M on Cyber Monday! Cyber Monday is always held the Monday after Thanksgiving and features incredible deals for online shoppers. If you don't have a chance to get out and about for Black Friday, then Cyber Monday is your next best bet for great deals that you can't miss!
Most online retailers will feature exclusive deals over the long weekend and one of those will be H&M. H&M's Cyber Monday deals are expected to be even better than Black Friday. Their Black Friday deals will already be epic so what's in store for Cyber Monday? We can probably expect something similar to last year from H&M.
H&M's Cyber Monday sale will begin on the 27th and last until the 28th and reportedly will offer 30% off everything site wide! Besides that, there will be 70% off select items online. What a deal!
Here are a few items you'll definitely want to pick up from H&M soon..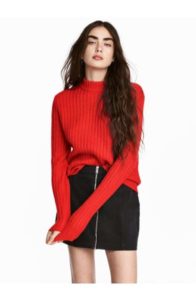 Rib-Knit Sweater ($12.99)
This red sweater is the perfect fall accessory. Red is a holiday color and this sweater is sure to get you a load of compliments. The rib-knit fit will keep you warm and cozy during the cold wintery days. Pair this sweater with your favorite jeans or a form-fitting skirt to make a beautiful holiday outfit!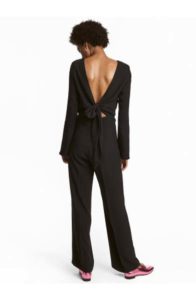 Jumpsuit With Ties ($34.99) 
If you're looking for a cute jumpsuit to wear for Christmas morning or a New Year's Eve party, you'll want to grab this one from H&M. The flowy fabric makes it lightweight and comfortable, so you won't feel constricted. The beautiful bow in the back makes it a great holiday outfit and the pockets on the side makes it casual. Either dress up the jumpsuit with a pair of heels for a night out, or make it a laid-back outfit with a pair of shiny shoes.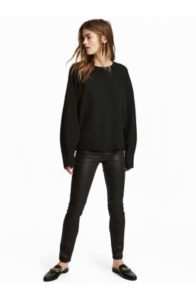 Slim-Fit Pants High Waist ($17.99)
You can't beat this deal on these shiny slim pants. The fabric is in fashion and will go with anything you pair with it. Whether it's a cozy sweater or a sheer blouse, you can wear these pants anytime during the holidays and will be sure to get an array of outfits out of them.
Don't miss the great deals going on at H&M right now and be sure to keep yourself updated with the latest Black Friday and Cyber Monday deals on SHEfinds.com. You can even check out H&M's 2017 Black Friday deals, too!
[Photo: H&M]