Earlier this morning H&M gave the very first sneak peek of the upcoming Isabel Marant x H&M collection and we nearly died. Not only is the dress freakin' cute, but Isabel Marant herself is modeling it! Take a look: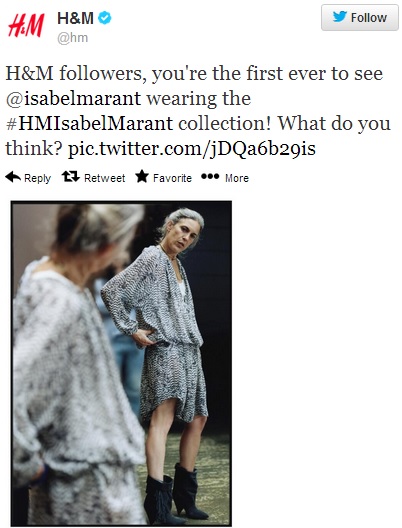 Now in case you've been sleeping under a rock, Isabel Marant's highly anticipated H&M collection is scheduled to launch November 14, 2013. The French designer joins the ranks of Margiela, Marni and Versace who've all created capsule collections for the Swedish chain. The limited edition line will include women's clothing and accessories, along with Marant's first foray into menswear. We're predicting this is going to be the biggest H&M collab yet, so save the date and start saving!
In other news, Kanye West is doing an APC collection, Taylor Swift launched her 2nd Keds collection and Margiela created actual glass slippers.
[Photo: Twitter]