There is one fashion trend this fall that has woman everywhere swooning – the illusion dress (also know as the miracle dress or the shrinking woman dress). Slaving away in the gym to lose those extra lbs before a big event? Well, hold it right there. The always fashionable and super petite Victoria Beckham knows what woman want and how to look fabulous and svelte while doing it. Which is why she created the Cotton Twill-Trimmed Silk-Blend Victoira Beckham Dress. Now before you go gaga over the price tag – $1,950 – we are here to ease the pain. Think of it more like saving a year gym membership…
$1,950 – 1 year Gym membership = affordable!

Looking like a million skinny bucks = priceless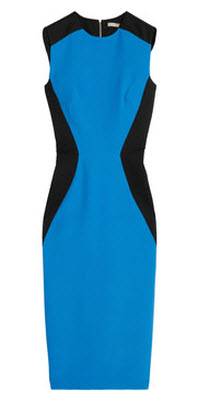 Get It: Victoria Beckham Cotton Twill Silk Blend Dress ($1,950)
Don't forget to shop other fall trends such as the smoking slipper, the jumpsuit trend, and lace.