1. Start early: Don't wait until you're surrounded by a pile of boxes to start writing. If gifts arrive before the wedding, send the note out right away. Keep a list of what you've dealt with. According to Emily Post, the general rule is that you're supposed to get thank-yous out for gifts received before the wedding within two weeks of their arrival. After the wedding, within a month of returning from the honeymoon. Try to get them all done around your two-month anniversary.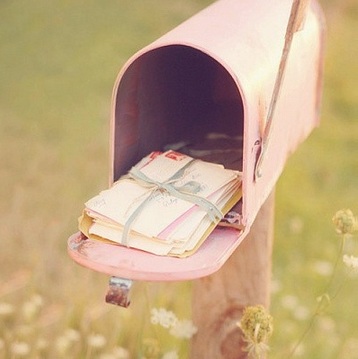 2. Yes, it has to be an actual, hand-written note: You can't e-mail or (gasp!) text a wedding thank you note, according, again, to Emily Post.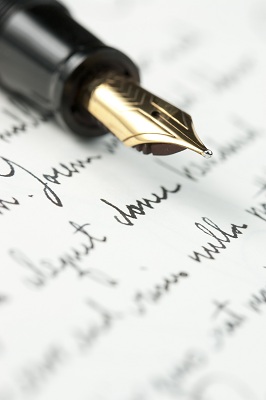 3 Spell people's names right: In this age of Facebook, Linkedin, etc., it is easy to verify the spelling of someone's name. If it is a family friend, ask your parents or in-laws to confirm spellings of first and last names, as well as titles (Dr., etc).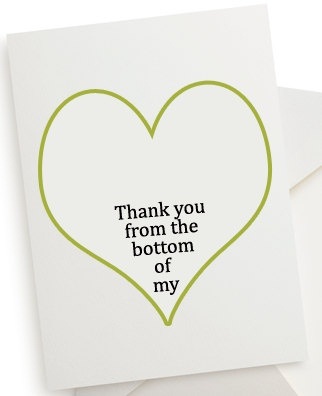 4.Avoid cliches phrases: Such as "Thank you for your generous gift" or "From the bottom of my heart." It's generic and doesn't sound sincere. Instead, try, "Thanks for sending over that place setting. Bruce and I now have a complete setting for 10. Hopefully we can have you over for dinner soon."
5. Don't mention the amount of cash: According to Wedding Channel, you shouldn't mention how much you received, but you can add a note about how you plan to use it. "This will certainly add to our house fund!" Or, "We are trying to buying a new car and this will certainly help."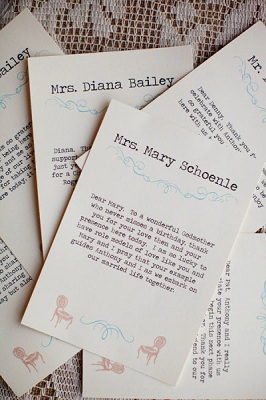 6. Make it personal:  Mention something specific about them from the wedding, shower or other wedding-related event in the note.  Even something along the lines of, "It was great to see you at the wedding. I'm honored you traveled so far for our big day."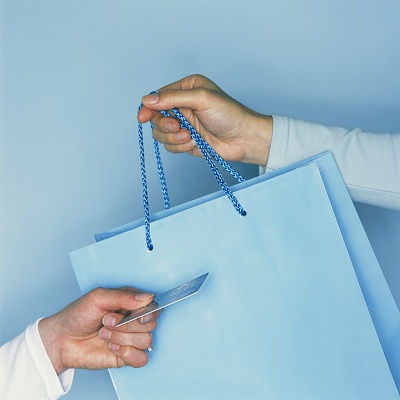 7. Don't mention if you returned the gift: Maybe you got two sets of margherita glasses and had to return one. Don't mention it. Simply thank them for the gift. If you got a gift card that you don't think you'll ever use, check out a site like Plastic Jungle to turn it in for something you would like.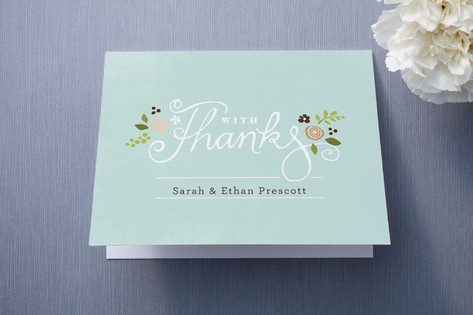 8.Have some great stationary: In an age of e-mail, actual snail mail is a lost art. Check out Minted for great ideas, if someone already hasn't given you some as gift. (Thank you cards make great bridal shower gifts, by the way.)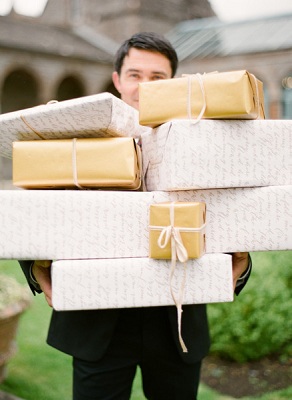 9.Get your husband involved: You probably weren't besties with everyone who came to your wedding. Half of the guests were likely linked to your husband. In the spirit of making notes personal, have him write the ones to his people. This is not as difficult as it sounds. Block off an hour or two to sit down together and knock a few out. Then ply him the food or beverage of his choice. It's bribery, but two people doing a job is better than just one. (We have other ways to get your groom involved in wedding planning, FYI.)
10.Bonus points: include snapshots from the wedding of the gift-giver:No one expects to be given anything for attending a wedding, but snapshots are an inexpensive and majorly creative way to express gratitude. You may not have shots of everyone, but slipping them in for the people you do will charm their pants off. Shutterfly is a great resource for prints and photo books.