Lip liner does so much more than people give it credit for. Most people skip the step entirely, figuring that it'll just get covered by lipstick anyway (or it's something only grandmas wear). But what those people don't realize is that lip liner keeps the color on your lips where you want it, and gives it extra staying power.
In theory, it seems like applying lip liner would be the easiest thing in the world. I mean, we all learned how to color inside the lines when we were in kindergarten, right? But, like so many other makeup techniques, it's just not, and there are certain things you need to do in order to avoid serious missteps, like over-lining your lips Kylie Jenner-style. Granted, she does that on purpose…but still.
That's where I come in! I tested out a few different lip liner techniques from various sources (Pinterest, YouTube, magazines, my own brain—you know, the usual suspects) until I found the fastest, easiest and all-around best one. For this tutorial, I used Revlon ColorStay Lip Liner in Wine ($7.59) and Maybelline Color Sensational Lipcolor in Blissful Berry ($5.59). Here's how to master the art of applying lip liner:
Step 1: Clean and moisturize
To be fair, this should really be the first step in anything that you do with your face. The reason it's important here is twofold: 1) if you have old lipstick or crumbs on your lips (no judgment), your lipcolor will crease unattractively no matter how well you prep, and 2) lip liner cannot save you from winter weather. Your lips will dry out, and it will hurt. This obviously does not require a picture because there is nothing all that exciting about my normal lips.
Step 2: "X" marks the spot 
This is an important step for anyone out there who doesn't have a particularly pronounced lip shape. Drawing an "X" on your top lip will give you even peaks, something that's difficult to achieve even if you use a lip brush. You can also draw a wide arc on your bottom lip if you'd like (I usually do because my lips can get very pout-y if I'm not careful). And no, I did not plan to match my lip liner to my nail polish. My sh*t isn't THAT together.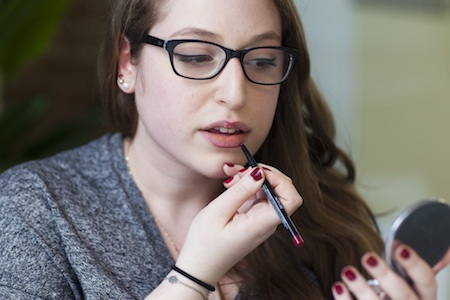 Step 3: Outline everything carefully
"Carefully" means don't talk, don't move, don't be watching The Bachelor, just focus on lining your lips. You want to get the line as flush to your natural lip line as possible. If you're purposely over-drawing the outline, this step is even more important: one false move and your entire face will just be one giant set of lips. Be patient.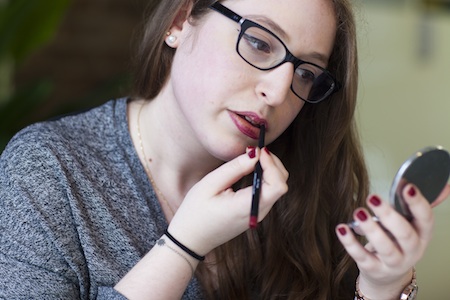 Step 4: Color it in.
Just as you would any lip pencil. Again, this step is optional, but it does keeps the lip color from sliding around when you eat and drink. Or, as an alternative, you could fill in part of the lip and blend it into an ombre. After that's done, just apply your lipcolor of choice! Apologies for my weird lipstick-application face—that's what happens when you use a very tiny handheld mirror.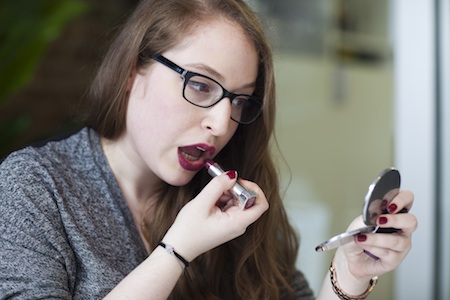 Step 5: Look ~*flawless*~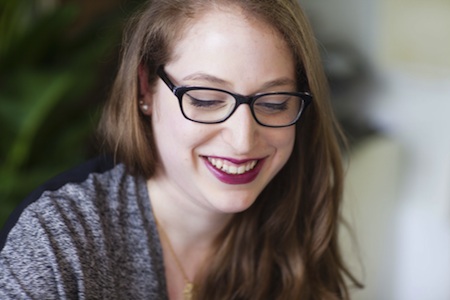 Shop the products I used in this post below: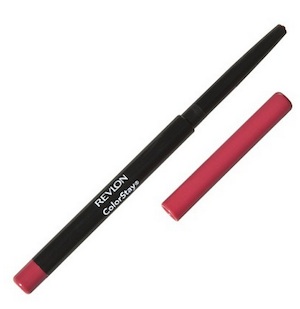 Revlon ColorStay Lip Liner in Wine ($7.59)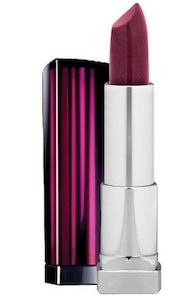 Maybelline Color Sensational Lipcolor in Blissful Berry ($5.59)
For more tips, check out: the 5 tops every woman should own, how to care for thin hair and how to avoid irresponsible purchases
[Photos: Shelby Rodriguez]