If you've ever spent more than 5 minutes looking at wedding photos, you know which ones are the most compelling. They aren't the stiff, overly formal portraits where your entire bridal party has been told to "say cheese".
We've asked professional NYC wedding photographer G.E. Masana for 5 tips on how to avoid cookie-cutter wedding photography. Here are G.E.'s suggestions:
1. Be "camera unaware"
Have you ever felt the best photos of you were when you didn't know there was a camera there? Ignore the camera. Seriously!
When you're having a great time at your wedding, feeling emotions, laughing, crying, interacting with your closest friends, celebrating with those you love, and living your life to the fullest (as you should be), your photographer is free to capture all the natural moments you're experiencing, getting genuine expressions, reactions, and real memories.
However, if most of your photos are of you stopping to look at the camera and smile, pose or mug for it, then real moments are being interrupted, missed, overlooked – or worse, prevented from ever happening.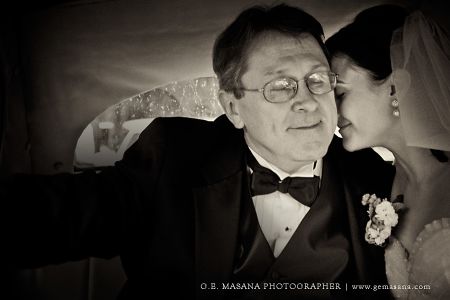 2. Your attitude's showing in your photos
Be sure you've given yourself permission on your wedding day to relax, let go, and have fun so you can take in and savor all your great moments!
I photographed a wedding where the bride seemed like she was floating on a cloud all day long. She really was! I asked her about it and she told me she was "taking in every second – and loving every moment." The more you can do that, the more you're going to experience an amazing day, have amazing memories – and get the photos which capture it all.
3. The photographer's style matters too
Make sure to hire a photographer whose work, style, and personality you connect with. That rapport is key because when the photographer is more like a familiar face, you're relaxed in front of their camera and free to be yourself.
As you look at photographers, check their photos for proof of their ability to capture spontaneous interactions without stopping the action  or making people pose to get their shots.
Trusting your photographer to be truly unobtrusive frees you from having any concerns about what they're getting, second-guessing them or feeling like you need to check in  on them – which in turn means you'll be enjoying your wedding more… while your photographer documents great moments.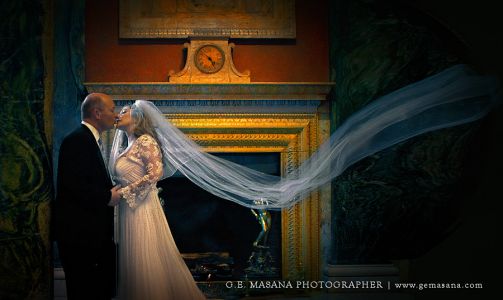 4. Avoid this major cause of cause of stress
Poor scheduling of planned photo sessions creates stress and undermines the best efforts, so allow some additional time – just in case it's needed. This is one part of the day you shouldn't rush through or try to squeeze in. Your photos will show it if you do.
When you're relaxed and comfortable, you'll enjoy your big day more  – and it'll show in your photos!
5. Take your wedding photographer for a test drive
Just as you'd do a trial run with your hair and makeup, schedule a Pre-Wedding Session with your photographer to see how you'll look in your photos. I often do that with my bridal clients.
Knowing up front that you'll look incredible means you can have confidence in your photographer on your wedding day, and be free to be relaxed and natural looking n your wedding photos.
The best wedding photos aren't mere snapshots. Guests can take snapshots. But the best wedding photographers make photos that tell a story.
Do you need help choosing your wedding photographer? Download "20 Questions You Absolutely Need To Ask Every Photographer You Interview" right now on
gemasana.com
.
Shop our guides to the best inexpensive wedding dresses, customized wedding favors, and wedding cake toppers.