Knowing how to conceal a blemish is Makeup 101. Even women who pride themselves on going makeup-free, or simply choose not to wear a ton of makeup because it's not something they're into, have to conceal a freakishly bad zit every now and again. So, you may know the basics, but did you know that concealer isn't exactly one size fits all? I'm not talking about color here–obviously different skin tones and types require different colors and formulas. We all know that once you find a concealer that works, you stick with it through hell and high water–I've been using L'Oreal True Match Super-Blendable Crayon Concealer ($8.99) for years now. What I mean is, not every blemish or mark calls for the same method of application. Just because one method hides that zit on your forehead doesn't mean it'll work on those bags under your eyes. Here are the right ways to cover your unwanted marks and imperfections:
1. Zits. You want to apply concealer directly onto the mark, then gently blend the concealer around the edges until you don't see any harsh lines. Cover it with translucent powder or a powder foundation of a similar color to set everything so your concealer doesn't slide around. Pro tip: use A LOT LESS concealer than you think you need. "The more, the merrier" doesn't apply here–putting too much concealer on will actually highlight your zit, not mask it. You can always add more if you find that you need to.
2. Redness. Apply a cold compress on your skin before you add any concealer. Your skin might just be irritated, and there's no real sense in applying makeup when you don't need to. Hold the cold compress on the red spot for a few minutes, take it off, give it a few minutes to rest, and if it's still red, then apply concealer normally.
3. Under eye circles, bruises or veins. You want to avoid applying the concealer directly on top. Weirdly enough, this only discolors the concealer, and doesn't ultimately give you the coverage that you're going for. Check out our tutorial on the right way to cover under eye circles–it'll tell you everything you need to know, and the same principles apply for bruises and veins.
Get my concealer recommendation here: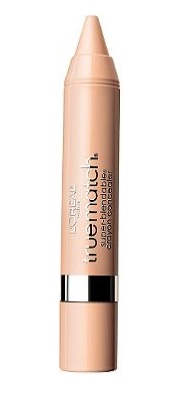 L'Oreal True Match Super-Blendable Crayon Concealer ($8.99)
For more tips, check out: 7 t-shirt mistakes you're probably making, how to prepare for your first bikini wax and how to get Selena Gomez and Chloe Grace Moretz's perfect waves
[Photo: Shutterstock]