I'll admit, I don't watch Game of Thrones. But I do know that the Daenerys Targaryen Halloween costume is an excellent choice for all you ladies who are fans of the HBO series (or have boyfriends who are into it ;)). I mean, she's the Mother of Dragons and John Snow's aunt. That's pretty badass! Why not dress up as her for Halloween then??
OK, so here's what you need to nail the Daenerys Targaryen Halloween costume. First, you gotta have that long, flowing blonde hair. If you're not born with it (insert Maybelline commercial here), no worries, that's why wigs were invented (probably). We found this Game of Thrones Daenerys Targaryen Wig Long Blonde Wavy ($25.79) that already comes braided. Less work for you, check!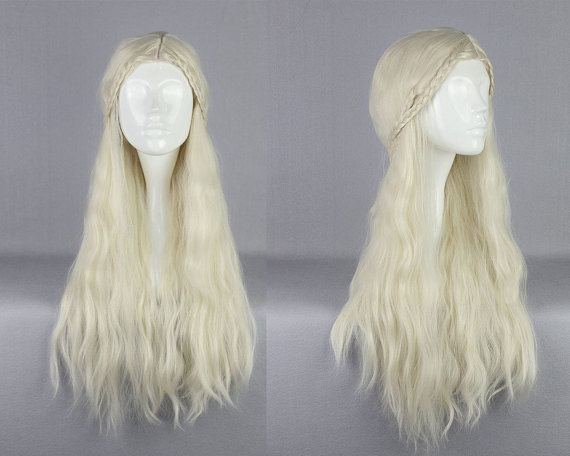 Game of Thrones Daenerys Targaryen Wig Long Blonde Wavy ($25.79)
Next you need an outfit. I picked the blue dress because a friend who watches the show told me it was newer than the brown outfit. Obviously you can do either, but I found this really amazing lookalike of the blue dress. It's kind of expensive, but definitely worth it if you're trying to go all out.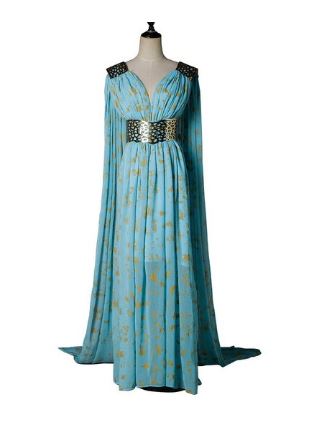 Mycos Game of Thrones Daenerys Targaryen Mother of Dragons Blue Dress Costume ($85.99-$92.98)
FYI, 76% of customers on Amazon says the dress runs large. Keep that in mind when placing your order!
So, since you're dressing up as THE Mother of Dragons, you obviously need a dragon. If only real ones existed. Just kidding, that would be scary! This Beanie Babies dragon is not scary, and also small enough to carry around all night.
Ty Beanie Babies Legend Dragon ($14.28)
I also found these silver nail caps that are really beautiful and cool. They're not necessarily a requirement of the Daenerys Targaryen Halloween costume, but a nice addition that will make you stand out from the other Khaleesis (there will be many). Also, they have the word "dragon" in the product name so figured they would be appropriate. They come in a set of 5, so don't forget to order one for each hand!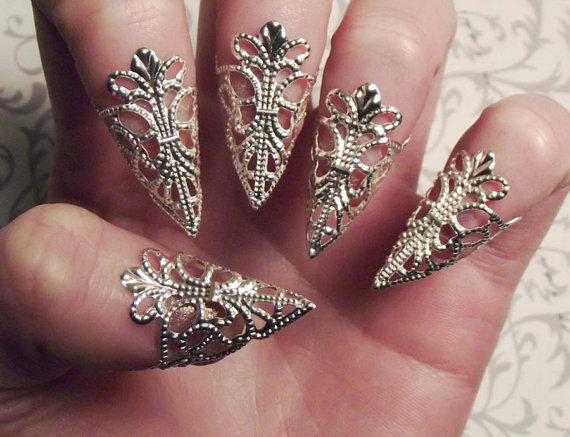 Silver Dragon Claws // Nail Armor // Set of 5 ($18)
With these items, you'll be ready to rule the Iron Throne come October 31st. Have fun!
For more Halloween ideas, check out costumes for Ghostbusters and Harley Quinn!
[Photo: HBO]
SheFinds receives commissions for purchases made through the links in this post.