As a working mother I often feel as though I am being pulled in a million different directions. And with a 1-year-old at home in Connecticut and a demanding (but highly rewarding!) job in New York City, I am quite literally caught between two worlds. But I wouldn't have it any other way–both aspects of my life, work and home, are sources of joy and provide deep feelings of accomplishment on a daily basis. The truth is, it's just difficult to take moment for myself sometimes. I often feel like I should be doing something for someone else rather than myself. Getting a mani when I should be planning my daughter's birthday party feels selfish and wrong. Raise your hand if you know exactly what I'm talking about. It's so hard!
It's necessary, though. According to a recent survey conducted by T.J.Maxx, women who carve out this "me time" are happier, more balanced and more relaxed. For most women (56%), that time is spent with family and loved ones, while "quiet time alone" (20%) and "fitness" (11%) were also reported.
Stealing away these moments affects us on a chemical level, according to an expert affiliated with T.J.Maxx.  "When I work with women I get them to think about their 'me' moment – that thing amid all the daily chaos that makes them truly happy," life coach and author Christine Hassler explains. "These moments trigger the part of our brain that releases serotonin and makes us feel happier and positive."
So, it's actually not necessary to get pedicures once a week or become a lady who lunches to feel happy and relaxed (although that does sound wonderful!). More "everyday" moments like making dinner with your husband or sneaking in a 20-minute power walk at lunch can serve to recharge us.
On a personal level, this moment for me is when I'm dashing through Grand Central at the end of my work day, running to catch my train home . It sounds crazy–but I love it. I pop in my headphones, turn on Spotify radio and reflect on my work day. I start getting really excited about seeing my daughter and husband and thinking about what we'll make for dinner. Even as binkies and sippy cups spill out of my bag as I search for my train pass, I feel a sense of excitement and calm. By the time I'm on the train, I'm already in a better mood.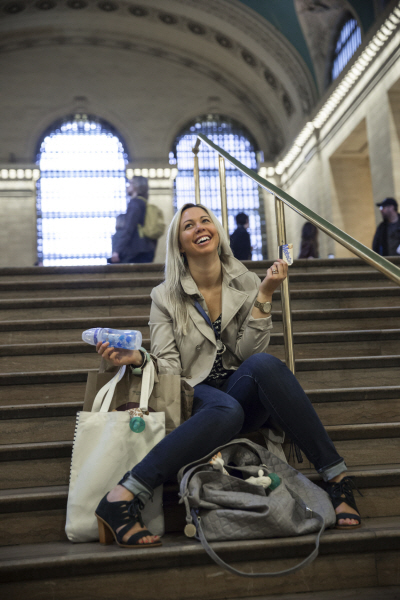 My moment–yes, in Grand Central of all places!
So, what's your moment? Christine shared some tips for carving out this time and making more of it:
Be selfish: Women tend to put everything and everyone first. They need to learn the power of saying "no" to external demands so they can say "yes" to the moments they treasure.
Make the time: We all have busy schedules, so schedule your moment to make sure it happens. It should be something you look forward to each day rather than another "to-do."
Accessorize your moment: Whether it's having the high quality cookware for family dinner night or that designer spring dress for brunch with friends, it's important to have the tools that put a personal stamp on your moment. T.J.Maxx helps women express what matters most by providing an incredible selection of high quality and brand name items that facilitate and personalize any moment.
There's no one size fits all: Creativity is a female superpower! Come up with a unique way to fit what matters most into your day. Maybe that means yoga in bed to get in your workout or a candlelit dinner on the couch for a casual date night.
Life is not an Instagram photo: Remind yourself that social media is other people's highlight reel not their behind the scenes. Be you in every moment and make your moment work on your terms. Transform comparison into inspiration – whatever you see in someone else, use it as fuel to inspire you own unique ideas.
Be in the "moment": Being present in a moment allows us to feel balanced because thoughts about the future often create anxiety. Taking a few deep breaths throughout the day is a simple, yet effective way to come back to the now.