When it comes to job interviews, first impressions are everything.  In order to look pulled together and professional from head to toe, office appropriate shoes are a must.  Shoes should reflect you, but don't need to scream personal style à la Elle Woods' pink stilettos, nor should they be completely boring and basic.  We've found some of the best flats, boots, and pumps to help you get your dream job, at prices that won't make you feel like you need to have five jobs.
Flats With Flare
Job interviews are stressful enough and you don't want add to your nerves by worrying about tipping over in heels.  If you're not exactly runway ready in stilettos, a clever flat is a good option.  Choose flats in basic colors like black, brown, or grey that have a little something extra.  Bow detailing, a jeweled add-on, or a textured fabric will make you a standout candidate.
Vivienne Westwood For Melissa, $124
These Boots Were Made For Interviewin'
Rules of thumb when wearing boots to meet a potential employer: avoid patent leather, nothing that goes over the knee, no bright colors, and don't add fishnets or crazy patterned tights.  For knee-skimming boots, a pointy toe works will under dressy pants or with a knee length pencil skirt.  Stay away from cut-outs or any kind of metallic booties.  No need to go overboard with accents and detailing, remember that boots are enough of a statement on their own.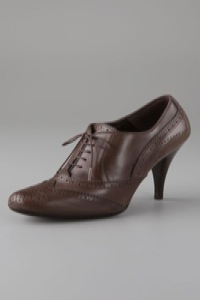 Professional Pumps
Pumps give you that extra boost (literally and figuratively) when you need all your confidence.  They automatically dress up any otherwise simple outfit.  That being said, subtlety is key: simple feminine touches, inconspicuous studs or grommets, and simple buckles make the shoe eye-catching, without being too splashy. These pumps will help you march into your next interview feeling like you're on top of the world.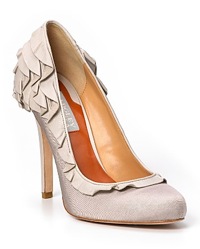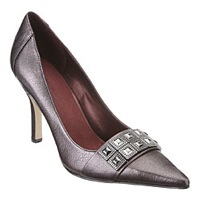 For more amazing shoes, check out our guide to booties, and every other style of shoe.  See all of this week's great deals on shoes, clothes, and more by visiting our online sample sale calendar.