This spring, Grace Kelly's wardrobe will be on exhibition at London's Victoria & Albert Museum, where her millions of admirers will no doubt flock from afar to catch a glimpse at her famed wardrobe in person. But for those of you who'd rather buy a new outfit than a transatlantic plane ticket, we'll show you how to get the look–for much less.
Plus, see how to get the look of both Audrey Hepburn's little black dress and Michelle Obama's festive purple velvet dress for less.
This neutral dress in an A-line shape and feminine halter exudes Grace Kelly's classic elegance, for under $100.
Pair it with a luxurious faux fur scarf for under $40 lends a touch of old world glamour to your wardrobe that will keep you warm, too (always a bonus).
Grace's look was never complete without a piece of simple jewelry. Try these faux pearl earrings–we think Princess Grace would approve.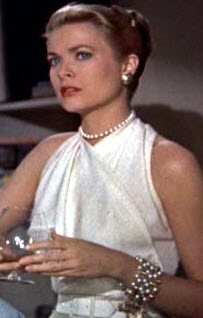 This screenshot from Rear Window showcases more of Kelly's signature style, even though she was in character. She's super sophisticated in a high-neck silk blouse and lots of pearls. Here, we found a few pieces you can mix with a blazer, t-shirt and boyfriend jeans for a less buttoned up look:
A layered faux pearl  necklace worn with something casual looks effortlessly chic.
This ombre pearl bracelet can be worn with everything from your favorite party dress to a t-shirt and jeans. We love that it's so timeless–and can be punch up Kelly's monochrome look.
Get inspired by our guides to the best party shoes to go with your party dress, and our roundup of beautiful (and affordable) necklaces, bracelets, and brooches.