While hailing a cab in N.Y.C., Olivia Munn not only snagged a yellow taxi, but she also grabbed our attention in her two-tone DL1961 Emma Jeans in Cobra ($248). They're just one of the latest denim designs featuring more than one hue, which means we've got a bona fide trend on our hands.
To pull off her beige and white bottoms, Olivia kept the top simple with a white peplum shirt (proof peplum is here to stay and you can wear white after labor day!) and accessorized with a Prada tote. We love the whole look and think the jeans are a refreshing addition to any wardrobe (great with heels for nights out!). Snag a pair for yourself below.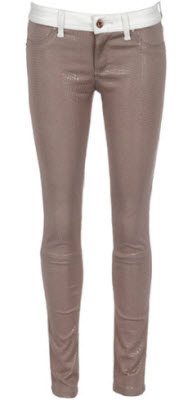 DL1961 Emma in Cobra Jeans ($248)
Shop more celebrity style finds such as Reese Witherspoon's quilted jacket, Stacy Keibler's jumpsuit, Sarah Jessica Parker's striped sweater, Jessica Alba's high-rise jeans and Taylor Swift's trench coat.