Limit your guest list. For starters, an intimate wedding needs to be, um, intimate. No third cousin's boyfriend's stepchild invited. Take it from someone who comes from a large Italian family—choosing to limit the number of attendees isn't easy. Both sides of the family will have to make concessions on rules for who is invited (so it's not personal) and friends will have to understand that they might be invited date-less. But in the end, if you've successfully paired down the guest list to only those nearest and dearest to you, your wedding will feel all the more special.
[Photo: Jenny Ebert Photography]
Choose a small-space reception site. Don't even look at hotel ballrooms and country clubs. If you're having a smaller wedding, you can think about more unique (yet romantic!) venues: country barns, French restaurants, art museums. Typically these venues have a smaller head count so ask how far they can stretch the numbers before you start whittling down your guest list. If you're having a non-denominational ceremony or you're choosing not to marry in a house of worship, inquire about whether you can have the ceremony and reception at the same venue—this will allow you to comfortably segue from the ceremony to the cocktail hour. No traveling required for your guests means they'll be more relaxed and more ready to party!
[Photo: Braedon Photography]
Ask your guests to stand for the ceremony. If you're having a shorter ceremony, you might consider having no seats for the guests. This will encourage your friends and family to stand closer to the action forming almost a natural circle around you both. Nothing could be more intimate than a microphone-less officiant reciting your ceremony to a crowd that's happily snuzzling shoulder-to-shoulder. Exception: don't make your 90-year-old great-grandmother stand! If she made the guest list, give her a seat, for goodness sake!
[Photo: Brookelyn Photography]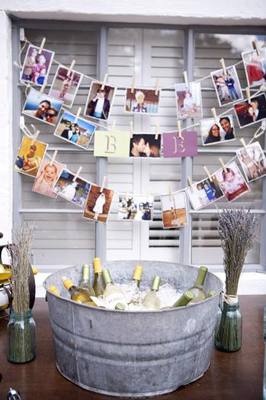 Include your guests in your wedding-day details. One of the sweetest ways to pay homage to each of your guests is to find a way to include them in the wedding. Print photographs of you and your husband throughout the years that include these special attendees (you dancing with your uncle at your sister's wedding, he camping with his best buds). You can put the photographs out around the wedding venue in various rooms, hallways, seating areas. Seeing their own faces in your photos will remind each guest just how special you are to them and them to you.
[Photo: Events by Heather Ham]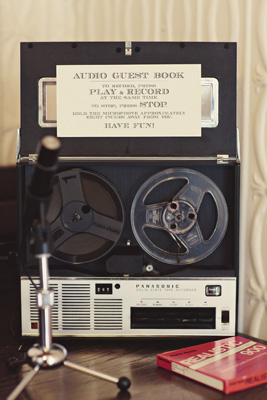 Involve your guests in your wedding-day memories. We love, love, love the idea of an audio guestbook! With fewer attendees, each guest can really take his or her time recording a message to you newlyweds. At the end of the evening, your recording will be filled with words of wisdom and hilarious stories of life, laughter, and the pursuit of love.
[Photo: Clean Plate Pictures]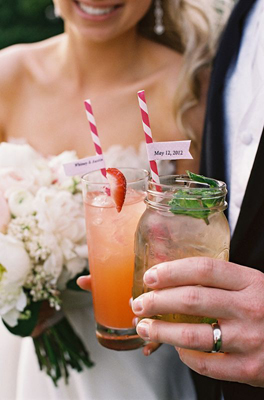 Splurge on a selection of signature drinks. At many weddings, you'll get the standard selection of liquor. With the exception of a signature cocktail, your drink choices may be no different than last Saturday night. But with a smaller wedding, and less people consuming alcohol (it adds up even if you stock the bar with the cheap stuff!), you may be able to splurge on the best champagne and a selection of local beers.
[Photo: Jen Fariello Photography]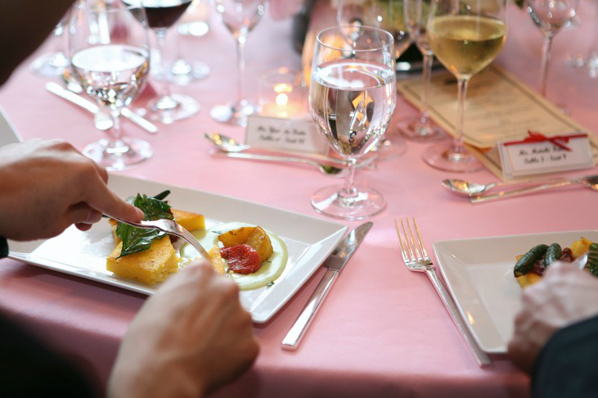 Serve only the best foods. When choosing your wedding venue, think about your catering options. If you choose a restaurant, it's a no brainer. But if it's a barn or a museum, do they have catering options? Can you bring in your own? Forgo the standard wedding fare, and make as many unique selections as are available to you. We're not saying you have to serve filet mignon with truffle butter (although that does sound delicious), but treat your guests to something different—something cultural, something local, something seasonal. A fun way to keep an intimate group of partygoers engaged with your food choices is to include a day-of menu that lists the foods being served (from appetizers to dessert) and explains the selections you made.
[Photo: Lara Robby Photography]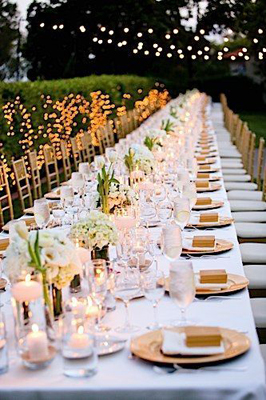 Have your guests sit "family-style" during dinner. When it comes to the reception, opt for family-style seating. Long rectangular tables with seats or backless benches on either side will create both a casual and intimate feel. You'll get to socialize with more of your guests this way. It's much more romantic than having a separate table for the bride and groom. And for whatever reason, family-style seating always seems to ignite imromptu speeches—added bonus!
[Photo: Maribeth Romslo]
Allow for a lot of speeches. Allow for impromtu speeches. It's likely most of your guests all know each other at this close-knit event and many memories will be shared amongst the entire group. Make sure the wine is flowing and allow the speeches, toasts, and roasts to naturally run their course.
[Photo: one love photography]
Don't hire a wedding band. (Or a DJ for that matter.) I love live music as much as the next person but it's quite simply not the only way to have a good time. A big band sometimes draws attention away from the newlyweds and turns the wedding into a big raucous party—not that that's a bad thing! But it might not be the right fit for an intimate affair. Don't get me wrong—I don't think your wedding-day should be tune-free but an iPod loaded with playlists you created yourselves can serve as the perfect accompaniment to a long dinner, a whole lotta mingling, and a little dancing in between. Just be sure the venue is set up with some sort of sound system.
[Photo: Brookelyn Photography]