Use bouquets for your chair decor. A gorgeous bouquet of flowers attached to your seat back? Yes, please! Do this for all your guests and you'll have major WOW-factor. You can even score a homerun with succulents, herbs, or something as simple and sweet as lavender.
[Photo: Andrew Weeks]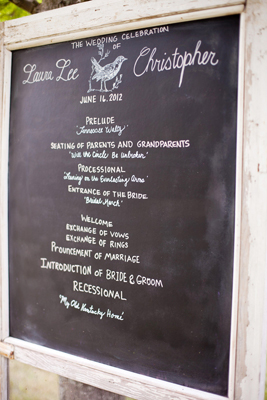 Have just 1 ceremony program... On a chalkboard! Perhaps the best, most cost-effective use of the ever-present chalkboard is using it oh-so-wisely as an usher at your wedding. Set it up right at the foot of your aisle so guests can't miss it on their way to finding a seat.
[Photo: Jen & Chris Creed Photographers]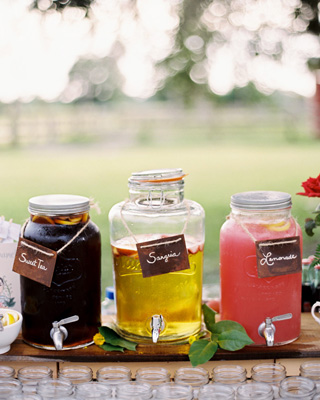 Serve up some pre-ceremony refreshments. Get guests socializing before the start to the ceremony. We recommend steering clear of all alcohol until after the "I Dos" or at least limiting the alcoholic selections—sangria's okay; Sex on the Beach, not so much.
[Photo: Ryan Ray Photography]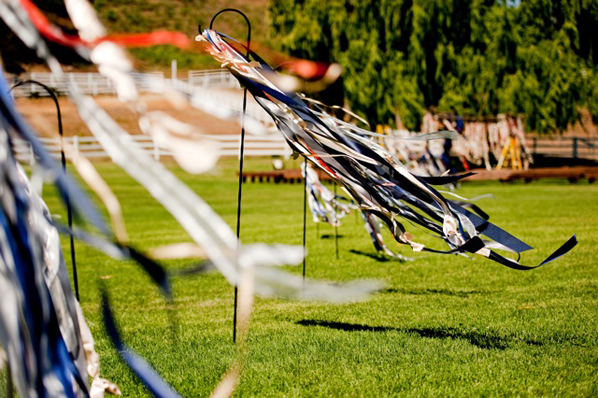 Use streamers to mark the spot. We're so (almost) totally over wooden signs pointing this way and that. Show guests the way toward the path of everlasting love with streamers, not signs.
[Photo: Yvette Roman Photography]
Encourage one love! We're swooning over this "one love" idea (thank you, Bob Marley) of asking guests to pick a seat, not a side. After all, on this day, two families become one (awwww).
[Photo: Jasmine Star]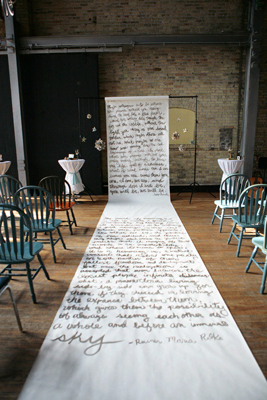 Create a custom aisle runner. Oh ode to my lover how poetic and pretty are thee? Don't miss out on the opportunity to create a one-of-a-kind aisle runner—script a favorite poem, a love letter, or make up your own wedding-day haiku.
[Photo: Tammy Horton Photography]
Give friends and family some facetime. There are so many innovative ways to do a guestbook but we're total suckers for photoboards. Let guests take Polaroid selfies and pin them to a huge blown-out board featuring—who else?!—you lovebirds, of course.
[Photo: Orange Turtle Photography]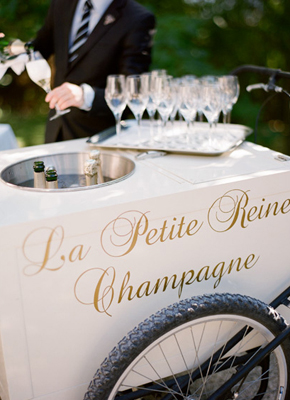 Have a post-ceremony champagne toast. Why save the champagne toast for the reception? Have a "we did it!" toast with all your guests to close out the ceremony. I mean, have you ever seen something more adorable than this champagne pushcart?!
[Photo: KT Merry Photography]
Choose casual ceremony seating. Just because you want guests to be comfortable at your outdoor event doesn't mean you have to choose bales of hay for seats. Have your event planner set up a lounge-y area surrounding the site of the nuptials using plush sofas, loveseats, eclectic chairs, and a collection of pillows. Guests will be oh-so cozy they won't want the ceremony to ever end!
[Photo: Ryan Ray Photography]
Dress the part of the wedding. Get your guests involved in your signature look! We're head-over-heels for this cute couple's creativity and obvious whimsy. Leave out a tray of bowties (or whatever else you and your dream team dream up) so guests can help themselves. Perfect for young and old, guys or gals—no ribbon ever looked as sweet as a polka dotted bowtie in a loose updo!
[Photo: Ryan Ray Photography]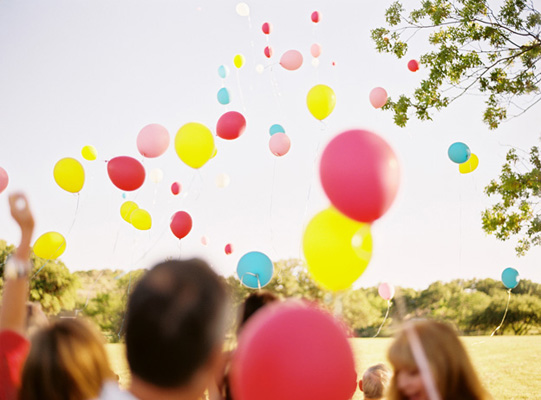 Go bold with a balloon release. Forget the butterflies, ditch the bubbles. Balloons are so much more fun, festive, and totally a NOW thing. This trend won't last forever but while it does, we give it a big thumbs up, up, up, and away!
[Photo: Ryan Ray Photography]
Go for the festive processional. No one ever said you HAD to choose Bach or Pachelbel. Or even the Beatles for that matter. Do something totally unexpected and have a marching band, mariachis, or a Junkanoo band pave the way for your walk down the aisle. Can't muster the courage to go balls-out for the processional? Do it for the recessional and get the party started off on the right foot.
[Photo: KT Merry Photography]