Whether you actually enjoy camping, or your family forces you to go, we have five pieces that will make you look good while doing it:
It gets cold at night, so instead of throwing on that oversize hoodie, try out this Kimichi Blue Femme Nylon Parka ($39.99) that has a fun, feminine shape with a nylon fabric that's ideal for camping.
A comfy cotton tee is essential, and this Gap Cuff-sleeve T ($19.50) has a roomy fit, but it drapes nicely over the body so it doesn't look sloppy.
Cargo pants aren't what they used to be. We don't suggest you wear the very popular J. Brand Houlihan pants, but these James Perse Rolled Cargo Pants ($116.90, down from $194) are another stylish option that you can move around comfortably in.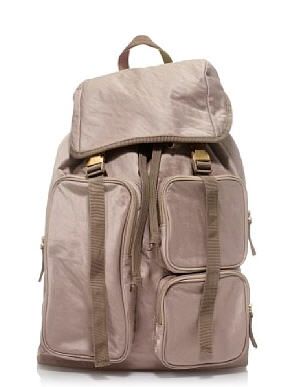 We haven't worn a backpack since grade school, but this J. Crew Rumpled sateen backpack ($138) is very chic and grown up. You will cherish the extra pockets that are great for holding your camping essentials.
If you have to wear sneakers, which you do, make sure they're cute like these red Superga Unisex 2750 Cuto Classic sneakers ($64.95).
See our roundup of the best insect repellents that actually smell good, and then check out our guides to the best tees for your shape, the best celebrity sunglasses, and the best summer hats, and the coolest sneakers.