The athlesiure trend has made wearing traditional exercise clothes outside of the gym socially acceptable. After all, don't skinny jeans almost have the appearance of yoga pants? Their ease of movement infuses happiness into the rest of your day. You feel more productive at work, more likely to thank the barista for your latte and more prone to commit random acts of kindness. That's a powerful pair of pants! They key to going from the studio to the rest of world (even work!) is to draw a line between post-gym and everything else. That means no hoodies and flip-flops. If you want the real scoop on how to look good in leggings, the key is to pair them with clean, classic pieces. Here's how!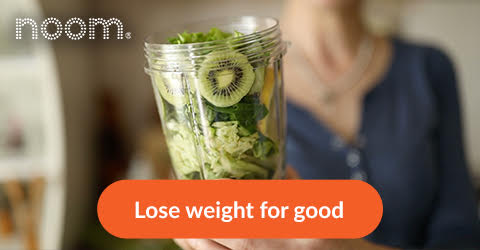 How to Look Good in Leggings
1. Change your mindset. Truly any woman (of any shape, size, height, weight, etc.) can wear leggings–and should! Channel your inner Lizzo and slip on a pair with confidence. If you're still feeling tentative, it might be time for a mind-body nudge. Enter: Noom, a meal plan app that guides users into making healthy, sustainable lifestyle choices. It's more than a food monitor on your phone – Noom is a personalized, empowering, behavior-change program. It helps adjust your thinking and behaviors for long-term, sustained weight loss. The experts behind the app will create a meal plan for beginners to help you achieve your food and weight goals. There's no counting calories or weighing ingredients on a food scale. The cues are easy: traffic lights to keep you on track. Food is categorized as green, yellow or red based on calorie density. Red doesn't mean, "Danger!", instead it means, "Be mindful!" and points out foods you can def still eat but just in smaller quantities. Log your meals and see what "color" food you need to eat more or less of that day. It might just lead to the purchase of a new pair of leggings!
2. Elevate your top. Pair leggings with a pretty blouse. Please note: a blouse is not a t-shirt. It's a top made of fine material and has a nice design and detail. But t-shirts are soooo comfortable, you say. We respond: No one ever said a blouse was uncomfortable! It's just a way to refine your appearance and make you feel good about yourself. Curvier ladies benefit from pieces that provide structure so consider topping a blouse with a blazer or jacket. A denim piece or fitted cardigan works, too.
3. Tweak a t-shirt. This outfit is poised to become your weekend uniform (and it will make you look super long and lean). First start with full-length leggings. Anyone who wears capri leggings automatically cuts their body down. Capris make the leg look shorter and overall you look squat. Feeling and looking good in leggings comes from tricking the eye and creating height. Here's how: Any old t-shirt won't do. It must have a V-neck, slim fit and be long enough so you don't expose your belly when reaching for something on a high shelf. Top it with a cardigan. There are many ways to go with the cardigan – chunky knit or thin cotton, wild pattern or solid colors. You choose. It seems natural to want throw on a pair of trainers with this look but we prefer chic wedge heels. If you must grab for sneakers, avoid the grubby ones you wear to the gym.
4. Dress up. Leggings with a dress? Yes, please! Just think of it like wearing opaque tights but so much better (because tights are insanely uncomfortable). Choose a shirtdress with a relaxed fit and define your waistline with a chunky belt. A cool western belt buckle would work well with suede booties or authentic cowboy boots. Yee-haw! Or play with color. It's not true that black is slimming. When you wear head to toe black then you just like a black rectangle (circle, oval or square). It gives the impression that you're hiding your body. Celebrate who you are with pops of color! It's ok to keep the leggings dark but then try a dress with a playful, colorful pattern. You'll look happy and confident.
5. Play with scale. Leggings are slim (small scale) so choose a solid color menswear-inspired button down that's slightly oversized but not boxy (large scale). A good tailor can easily add darts if the button-down needs more shape. Now back to small scale: a cropped boy blazer or denim jacket will do. Accessorize with long strands of pearls and cute ballet flats. Another way to play with scale is through pattern. Many women think it's wrong to mix patterns but that's totally not the truth. You just need to do it the right way by pairing one large with one small that have a common color tone. Think of this: navy leggings that have a large-print plaid in reds and greens. Top them off with a light blue sweater that has tiny dark blue polka dots all over. Or flip it: emerald leggings with small pink and white blooms all over. Your top needs a larger print that carries a similar color scheme, like an exaggerated pink and white gingham cardigan.
6. Ignore haters. Just focus on yourself. If you look good, it's a lot easier to be happy. And if you want to wear leggings, it's no one else's business. The people who make nasty comments or backhanded compliments are probably just people who feel really badly about themselves.
The editors at SheFinds wrote this article in partnership with Noom.