People have a lot of feelings about leggings. You can pretty much have your pick of debates: Are they pants or aren't they? Where is it appropriate to wear them? What sorts of shirts should be matched with leggings? And most important… Who is allowed to wear leggings?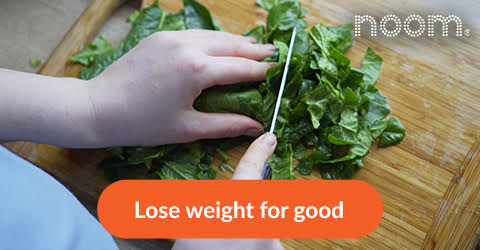 For right now, we'll politely excuse ourselves from all of these burning questions except the last one–because on that topic, we have a pretty strong position. No matter what your body looks like and no matter how old you are, here's the very most important thing to know about leggings: Anyone can wear them. That doesn't mean that everyone will look great in every type of leggings, but it does mean that if you want to wear a pair, you should absolutely go for it. The essential question isn't if you should wear leggings… it's what type of leggings you should wear.
That said, a big part of looking good in leggings is feeling great about yourself. Your confidence will shine through, so wear them with pride! If you need a little boost in that area, consider trying out a program like Noom. If you're thinking it's a traditional weight loss program, you're wrong! Noom is based on cognitive behavior therapy, so it really focuses on changing your way of thinking rather than just telling you what to eat and when to exercise. The beauty of this program is you'll lose weight, but you'll also learn to feel good about yourself and the decisions you're making–which is ultimately the more important goal!
Okay, now back to the topic at hand: leggings! Here's how to know what style is right for you.
How to Look Good in Leggings
Apple Shape

If you have the classic apple shape, with a full bust and hips and narrow midsection, go for leggings with a mid-rise waist. If you want to incorporate a print or any sort of detailing, keep it towards the bottom of your pants. And as far as length goes, you've got options—cropped and full-length both will look great.
Rectangle Shape

When your body is pretty much the same width from shoulders all the way down to hips (aka rectangle shaped), pick leggings with a low or mid-rise waist to create the illusion of curves. In addition to being fun, prints and patterns are another way to draw the eye to your waist and hips and create the hourglass look. Bright colors and shimmery fabrics will also both look great if you're into that look, and any length of pants are totally fine.
Hourglass Shape

For women with hips and bust that are pretty much balanced in width and a narrower waist, high-rise leggings are the way to go. These will keep your midsection looking slender. Side panels are similarly slimming, and will also make your legs look longer.
Triangle/Pear Shape

Women with the curvier hips that are characteristic of a triangle or pear body shape will feel and look best in leggings with a wide waistband or a foldover waist that go up to right the belly button or right under it. This will prevent the discomfort of something digging into your waist. Choose full-length leggings as opposed to cropped, and if you want something more fun than basic black, choose bright colors instead of funky patterns.
Petite Bodies

Like the rest of us, petite women have distinct body shapes. But they also are, by definition, smaller—which brings its own set of considerations. In addition to looking at whatever the recommendation is for your particular shape, you also may want to consider a cropped pant, which can make you look taller. Stripes down the sides of pants have the same effect. Smaller women are also great candidates for all sorts of more daring styles, like color blocking, intricate patterns, and cutouts.
The editors at SheFinds wrote this article in partnership with Noom.