1. Don't overwash your jeans: The wash cycle causes denim fibers to shrink and discolor. The director of brand concepts at Levi Strauss spoke out about the very serious issue of overwashing jeans. He said the wash cycle agitates fibers, causing them to swell, tense and shorten. Avoid "agitating" your jeans by washing them sparingly. [Star Tribune]
2. Wash silks after every wear: Take special care of silk clothing. Washing silks after every wear will help avoid discoloration. Also make sure not to wring or twist your silk clothing. This can cause the fabric to streak. Gently hand or spot wash silks instead.
3. Avoid plastic garment bags: Although they may seem convenient, plastic garment bags will yellow your designer clothes. Plastic bags trap moisture, which can lead to mold (gross). [T Magazine]
4. Use a mesh bag: Wash delicates, like lace thongs and bras, in a mesh bag. The bag will prevent the bra from twisting and stretching in the wash. Plus, you won't have to worry about the bra hook snagging other clothing. Try this lingerie bag from Victoria's Secret ($10).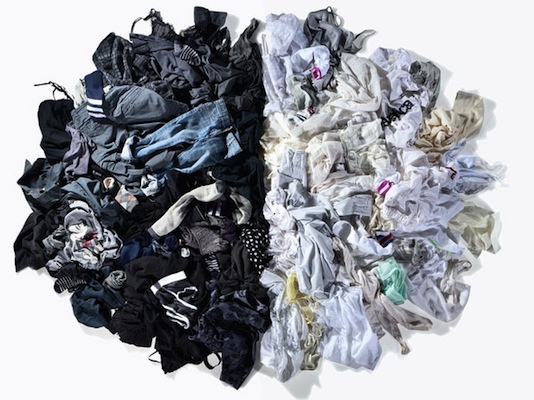 5. Sort your laundry carefully: Remember all those laundry tips your mom gave you? Turns out she was right. Do light loads of laundry and never overstuff your washing machine. Take the time to close zippers, fasten hooks and turn items inside out. Don't forget separate your colors! Wash darks together using the cold water cycle so they don't bleed onto lighter clothes.
6. No wire hangers: Never use wire hangers to hang knits and jerseys. They stretch out the fabric and cause weird indentations. Try flocked hangers or those with shoulder protection. Also, fold knits instead of hanging them.
7. Spray perfume before you get dressed: Most of us sptriz on perfume after we put on our clothing. The alcohol in perfume can stain and take the color out of fabrics, especially silk. So be sure to put on perfume before getting dressed.
8. Know what to dry clean: You should dry clean bright prints or colors that may bleed, clothing made of traditional silk, or anything with delicate stitching or beading. Most clothing made out of silk, acetate, velvet, wool and taffeta should be brought to the dry cleaner.
9. Cut off tags and loose trends: Resist the urge to rip tags of off new clothing. It's never a good idea to pull a thread. Always use cloth scissors to nip loose threads.
10. Find a tailor: If clothing rips, don't wait to fix it. Holes will only get bigger. If you can't fix the problem yourself, find a tailor. A tailor can also save old sweaters by getting rid pulls.
11. Watch the iron's settings: Be careful when you are ironing your clothes. Sort your clothing according to temperature, working from coolest to hottest. Silks and synthetics should be ironed on low to medium heat (350°F) and wool on medium to high heat. The right temperature is crucial, so wait for the iron to adjust before using it. Iron delicate clothing with a pressing cloth. Also, don't use circular strokes (this can stretch clothing).
12. Store clothing carefully: Store your clothing in cool, dry, dark places. Sunlight can fade, weaken and yellow the fibers in clothing so keep your clothing away from windows.
13. Beware of the dryer: Too much heat can harm the fibers in clothing. Gently push out excess water and lay the garment flat to dry on white towel to prevent discoloring. Or use a clothing rack to hang dry clothing.