Choose a flattering wedding dress silhouette
. You may love trumpet- or mermaid-style wedding gowns, but that doesn't mean they love you back. Dropped waist silhouettes can be really hard to pull off if you have specific body types, so it's extra important to work with the bridal salon consultant to find a gown that you love that also looks good on you.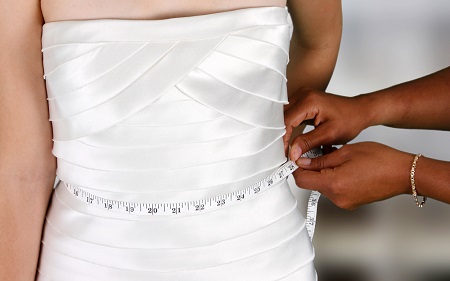 Be realistic when it comes to alterations. Your goal may be to lose 100 pounds before your wedding day, but if you're not really working out or changing your eating habits, that's probably not going to happen. When you're at your fittings, be honest with your seamstress--and yourself!--about what size you'll really be at your wedding. Nothing is less flattering than a bride squeezed into a dress she doesn't fit.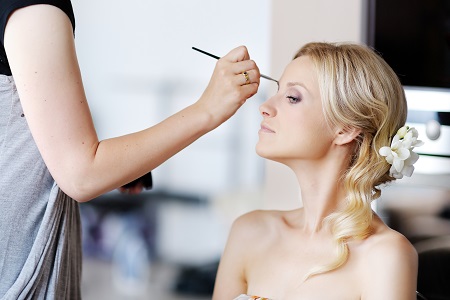 Get a makeup artist who knows how to contour. Trust us, contouring is the secret to taking 5 pounds off your face without breaking a sweat.
Stay away from foods that cause stomach bloating. Think beans, broccoli and cabbage. You'll probably want to avoid them in the two days before your wedding.
Trade soda for water. Obviously, the sugar in soda isn't great for staying slim, but those fizzy bubbles can also get trapped in your stomach and cause bloating, too. Water is a much better option, not only because it won't bloat you, but also because it's great for your skin and hair.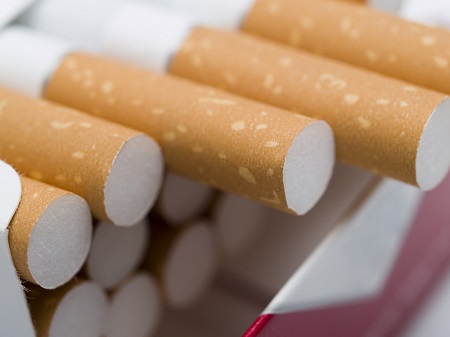 Don't smoke! Believe it or not, inhaling excess air when puffing on cigs can actually cause bloating as well.
Don't forget shapewear. Even if you're super skinny or in the best shape of your life, don't say I Do without some shapewear. It's not just about sucking in or concealing chub--it smooths everything so your dress looks even better. SPANX® 'Heaven' Bodysuit Shaper ($88)
Belt your wedding dress. Adding a belt will help define your waist, so you can either choose a belted wedding gown or ask your bridal salon consultant to suggest some beaded or embellished belts that will look good with your dress. COLLECTION RHINESTONE-ENCRUSTED SASH ($265)
Wear nude shoes. Wearing a short dress? Ditch the traditional white shoes and opt for nude heels instead, which will help make your legs look leaner and longer. Christian Louboutin Neofilo Patent Round-Toe Red Sole Pump ($775)
Do the right exercises. Instead of focusing your pre-wedding workouts on building muscle in place of fat, try exercises that are more for toning. Think yoga and pilates which will help you lose weight without adding lots of bulky muscle.