Pop the question in a special way. Your man put a lot of thought into asking you to be his wife, so don't slack off when asking your best friends to be your bridesmaids. Even if it is as simple as writing a kind note on a pretty piece of letterpress stationery along with sweet treat, they will appreciate that you took the time to ask and didn't just assume that they would be up for the job.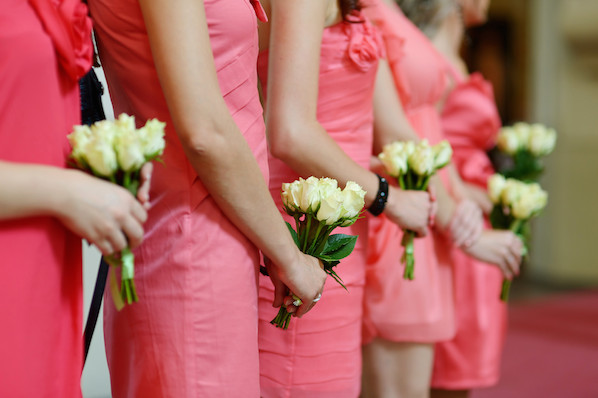 Discuss dress budgets before shopping. Just because you would feel comfortable spending $300 on a bridesmaid dress, doesn't mean your bridesmaids will. Gather your 'maids together to have an honest discussion regarding price range before heading to the store. Doing so will prevent awkward conversations.
Don't force your bridesmaids to wear matching shoes. They already bought a dress for you--don't make them buy shoes, too! Select a style that your bridesmaids will likely already have sitting in their closet, like metallic, strappy sandals.
Give all of your bridesmaids a plus-one. I know, you have a wedding budget that you plan on sticking to and plus-ones are not part of the equation, but trust me when I say that your single bridesmaids will appreciate the gesture, even if they end up choosing to not bring a date.
Be a good friend! You know not to constantly talk about the wedding, but don't forget to be intentional about catching up with your bridesmaids. Ask them what is going on in their lives; be there for them! Just because you're the bride doesn't mean can stop being a friend.
Don't get involved in the bridal shower and bachelorette party planning. Your bridesmaids will ask you what you want at your shower and bachelorette party: Do not answer. Say something generic like, "I'm sure whatever you all come up with will be fine! I trust you completely." I made the mistake of getting too specific, which made my bridesmaids feel a lot of unnecessary pressure to make the events exactly what I had asked for.  
[Photo: Minted]
Send prompt thank-you notes for everything. Key words here are prompt and everything.  Your bridesmaids invested a lot of time and money into these events, and sending a prompt thank-you note will do wonders in making them feel appreciated and that their efforts were worthwhile. Note: If your shower and your bachelorette party are on the same weekend, send two separate notes!
Don't wait until the rehearsal dinner to give your 'maids their gifts. Tradition has it that the bride gives her bridesmaids their thank-you gifts on the eve of the wedding. I've learned that bridesmaids appreciate receiving their gift soon after the shower or bachelorette party. They've just shelled out a lot of cash for you to have a good time and a gift is much appreciated.
Pay for their pampering. Treat your girls to manicures and pedicures the day before the wedding. It's a great little extra gift to them for their hard work in making your big day! Also, if you want your bridesmaids to have their hair and makeup professionally done on the day of the wedding, pay for that as well.
Be intentional about keeping in touch (and saying thanks) after the wedding. Sure, you're off honeymooning and are busy building a life with your husband, but don't forget to stay in touch with your bridesmaids after the wedding. Send another thank-you note or give them a call! Don't let them fade away from your life just because you're a Mrs. now.