Get married on a weekday.
Gone are the days of only saying I Do on a Friday or Saturday night. Many couples are choosing to get married on a weekday because it can save them big money. Even celebs are getting in on the act, with both
Ashley Tisdale
and
Cameron Diaz
recently getting hitched on a Monday.
Choose a small town over the big city. Weddings in major cities--New York, Los Angeles, Chicago, Miami, etc.--are going to be more expensive than choosing a less cosmopolitan location.
Hold the party at someone's house. Depending on the size of your guest list, you can opt for a casual reception in a friend or family member's backyard. Depending on the space, you can have a romantic garden wedding or a laid-back barbeque. Just be sure there's enough room to move it indoors in case of inclement weather.
Look into local parks. Many local or state parks will also allow you to reserve space for a ceremony for a small fee.
[Photo: Oregon Garden]
Call your favorite restaurant. Getting your food through a local favorite restaurant is almost always more affordable than hiring a catering company. Go back to where you had your first date or a place the two of you frequent to see what they can offer you.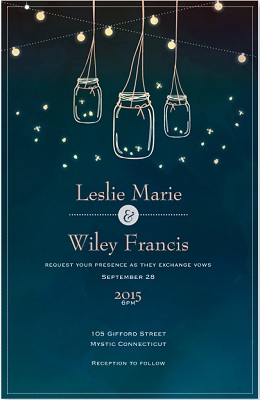 Look into affordable invites. While email invites are the cheapest way to go, most brides want that paper memento they can hold onto for years to come. Sites like VistaPrint.com and WeddingPaperDivas.com offer affordable (but still gorgeous) wedding invites. Have a creative pal? Ask them to design your invite and then print them out at Staples. [Photo: VistaPrint]
Buy a dress off-the-rack. J.Crew and David's Bridal both have beautiful gowns at affordable prices. You can also check sites like PreOwnedWeddingDresses.com and OnceWed.com, where brides sell designer gowns for a fraction of what they paid. Georgiana burnout floral organza gown ($795)
DIY your flowers. If you or a family member has any talent in floral arranging, think about doing your own bouquets and centerpieces. You can buy flowers in bulk at the local farmer's market (depending on your wedding season), the grocery store, or order wholesale at flowerwholesale.com. The site can deliver overnight if needed.
Serve Signature Cocktails. Instead of a full open bar, serve one or two signature cocktails that your guests will enjoy. You can even have your venue come up with something that matches your wedding day colors or your overall theme.
Choose a simple cake. The cake is a lot like your dress—the more embellishments you put on it, the more expensive it becomes. Save big by having a beautifully decorated Styrofoam cake for appearance, and then have an actual sheet cake in the kitchen that will actually be served to guests.
Find a local band. Instead of a professional wedding band, find a band that plays at a local bar or club who would be willing to play at your reception for a fraction of the cost (we know one bride who found two talented guitarists to play at her ceremony at the nearby coffee house). Also keep in mind that hiring a DJ is definitely cheaper than having live musicians at your event—just be sure to pass on the flashing lights and props that can jack up the price.
Visit flea markets and yard sales. You can give your wedding an eclectic feel by scouring flea markets and yard sales for everything from old glass vases for the centerpieces to dishes that you can then use for mix-and-match place settings at the reception.
Go for the gold. Platinum is super expensive because it's a strong metal, but gold can be just as pretty and durable. Our personal fave: Rose gold, which is gaining popularity with brides.
Skip the favors. Unless they're edible, most guests don't use the favors they receive at weddings. Save yourself a bundle by skipping this step--we bet most guests won't even notice.
Borrow from recent brides. From the wedding décor to your veil and accessories, don't be shy about asking friends and family members who recently wed if you can borrow some of their best items.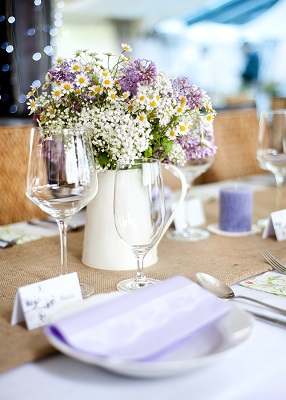 Elope! If you really want to put all of your resources into the party, elope--and then throw a reception for family and close friends afterwards.