The latest 90s trend to be resurrected? Overalls. We know what you're thinking "There is no way in hell I'm wearing overalls, I'll look like Stephanie Tanner, or worse – a farmer!" But you're wrong. As street style blogger This Time Tomorrow proves, overalls can actually look unexpectedly classy when paired with the right pieces. Here's her look, broken down:
1. Fitted overalls. Find a pair of overalls that strike the perfect balance between fitted and slouchy. This might take some time, but it's key to pulling off the look. Yoox.com has lots of options.
2. Add a blazer. Once you've found your perfect overalls, throw on a white blazer. Not only will the blazer class up the look, but the contrast between the white and the denim looks crisp and put-together.
3. Pair with strappy sandals. Complete your look with a pair of black, strappy heels. Opt for a version that doesn't have a platform to keep your look streamlined, and dont forget to cuff the hem of your overalls to show 'em off.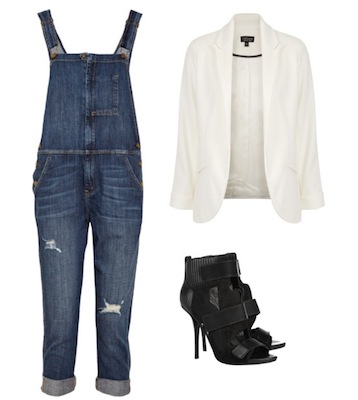 Get the look: Current/Elliott Ranch Hand Distressed Denim Overalls ($368); Ponte Jet Pocket Blazer ($70); Alexander Wang Noemi Sandals ($256.60, down from $570)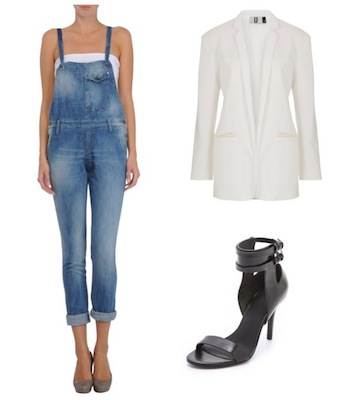 Get the look: Sexy Woman Denim Overall ($115); Tux Jacket by Unique ($390); Alexander Wang Johanna Ankle Cuff Sandal ($495)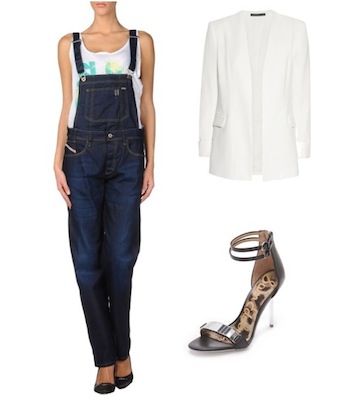 Get the look: Diesel Denim Overall ($174); Theory Tivona Stretch-Crepe Blazer ($385); Sam Edleman Allie High Heel Sandal ($130)
For more easy-to-follow fashion formulas, check out how to wear a sweatshirt to work and how to wear the burglar stripes trend. Plus, shop the Oscar de la Renta for the Outnet collection right now.