1. Know who you're sexting: 
I can see the appeal of sexting that random guy from the bar, because well, you don't know him and he can't judge you, but we all learned about "stranger danger" back in kindergarten and should know better. It's 2014 and you don't want to end up on "Texts from Last Night" or some other sexting-gone-wrong site. The Internet is written in ink, not pencil, and it's always better to sext with someone you know very well and trust than it is to sext with a person you just met, like a brand-new fling. Even sexting a friend with benefits (FWB) can be risky as the relationship between you is more casual. A FWB is more likely to share details of your digital romp with his guy friends. And that would just really suck for you. Right?
2. Be sexy not slutty: Things can get pretty hot and heavy when you're sexting. It's easy to get carried away with what you're saying (especially since you don't have to actually do any of it) . We've been there: you become a little bit more adventurous and explicit with each text, promising to do things you wouldn't normally do in the bedroom, and letting your imagination get the best of you. For lack of a better phrase, you write checks your ass can't cash. Right? Well, don't. Don't get overly graphic when telling him your wildest dreams--just hint at them and let him fill in the blank. (Pun intended?). Just like in dating, guys like some things to be left to the imagination, so don't put it all out there on text. Keep it classy.
3. Check your watch: With the exception of the morning-after text, rarely is it appropriate to send sexts before noon. No, scratch that--before happy hour. Waking up to a 9AM sext that says, "I want to (blank) on your (blank)" is as traumatic as being woken up with a bucket of ice cold water. It's too much. Wait until after work, when you're on your first glass of wine and there's a chance you can see him soon. But not TOO much wine, which brings us to our next tip...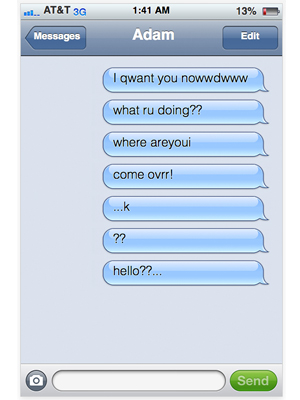 4. Don't drunk sext: Just like drunk texting or drunk driving, drunk sexting is just a horrible idea with no positive outcomes. If he CAN decipher what you are saying through the typos and deluge of Emojis, the whole thing is going to come off as sloppy and desperate. It will also be a huge turn off to your guy. When we've had one too many tequila shots, we might get too courageous and say we want to be tied up or spanked, when our sober self does not. And, trust me, the moral hangover of a bad sext is a million times worse than a drunk text. So don't do it.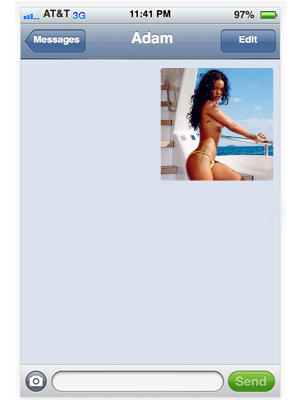 5. Never send photos via text. Ever: Never, I mean NEVER send a naked picture via text (or email for that matter). Again, you don't want your lovely lady lumps to end up on one of those revenge websites. Your life will be over. Only Kim Kardashian and Paris Hilton can parlay leaked photos in to a career--you cannot. But, if you can't resist, we recommend using Snapchat. The image only appears on the recipient's phone for a few seconds (you set the time, we recommend under 4 seconds) and then is gone forever. Still, try to keep your face out of the photo--the recipient can still take a screen grab, so it's not foolproof.
6. Don't sext with an ex. Just like sex with an ex, sexting with an old boyfriend can be exciting (so wrong it's right!), but the truth is guys you used to be romantically linked to are more likely use your texts and photos against you. Like, post pics on one of the Internet's many revenge porn sites. Remove these names from your phone and resist any and all urges to send them winkey faces in the middle of the night. Which brings us to our next tip...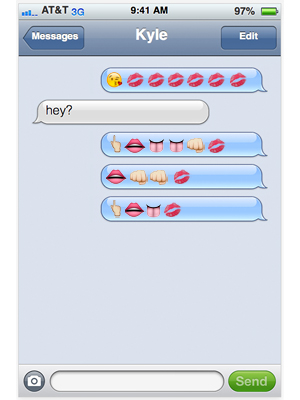 7. Don't over-use Emojis. Just don't. Because kissy face + lips + fist + smiley face + tounge does not a sexy text make.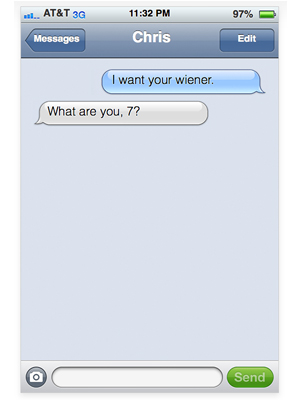 8. Know your vocabulary: If you're sexting, chances are you are an adult (if you aren't you should be). Whether you're in your early 20s flirting with your boytoy or spicing things up with your hubby in your mid 40s, there are still some words that no matter how mature we are, we just cringe everytime we hear them. You should know what words turn your man on…and turn him off. Avoid words that sound too filthy or explicit. Words like "c*ck and c*it" can often come off as too aggressive. Reversely, you don't want to seem like a child. We aren't in 5 grade so don't sound like you are. Never use juvenile phrases like "I want to be doing it right now" when referring to sex. And if you choose to follow only one rule, it must be this: Never EVER use the word "weiner." Trust me, it will make his disappear. Just be confident and forward, but be coy. You'll get a bigger rise out of him if you're sexy yet still a lady.
9. Review. Review. Review: Before clicking that "send" button, make sure the sext is going to the right person. Have you ever accidentally sent a text to the wrong person? Yeah, it's awkward, and you don't want that to happen with a sext. If you're killing it in your love life and juggling more than one fling, make sure you're sexting the right person. Also, your family members wouldn't be too pleased if they received a text about what panties you are wearing to work or where your lips are going to be later. The word horrifying would be an understatement. So make sure you double check your sext before sending it away. One downside of texting is once you've sent it, its gone with no return. Just like your reputation will be.