If you're anything like me, you're constantly on the prowl for the latest and greatest new clothes. After a certain point, my current wardrobe just doesn't cut it anymore, and I start to crave new pieces to add to my closet. I truly start to feel like I have a closet of clothes, but nothing to wear, which makes getting dressed every morning a less than enjoyable affair. The itch for new clothes gets stronger with the change of the seasons, too, and my favorite sun dresses from last summer now seem outdated and bland. As rewarding as it is to embark on a shopping spree and splurge on new clothes, you don't necessarily have to. While none of us unfortunately have personal stylists or even Cher's digital styling tool from Clueless, it's easier than ever to make matters into your own hands and reinvent your wardrobe without enlisting professional help. Before you take a bag of unwanted clothes to your local thrift shop, check out these genius tips for styling clothes you already have.
Throw On A Belt
Hate your raggedy pair of jeans that you've had for the past decade, or that shift dress that you swore you never wanted to wear again? Clothing item, meet belt. This wardrobe match-made-in-heaven adds some pizzazz to your waistline, and can make a shapeless dress instantly look more flattering and form-fitting on any body type. You can also use common accessories lying around your closet as a belt substitute, like a neck scarf or a bandana.
[Photo: Peace Love Shea]
Cuff Your Pants
Take any pair of pants from zero to 100 simply by cuffing the bottoms. This also gives you more freedom in the shoe department. If you roll your jeans, you'll have more exposed leg room for lace-up shoes or booties. If you're into the distressed pants look, I'm also a huge proponent of taking a pair of scissors to the hems of jeans. If you have a pair that's too long on you, cut off an inch or so from each pant leg and wash them a few times. You'll instantly have distressed hems without having to go buy a new pair of pants. Just make sure you cut them evenly!
[Photo: Brooklyn Blonde]
Tuck In Your Shirts
The tucking trend can come off as stiff-looking and a little too formal, but you can tuck in your tops without looking like you're headed to a business meeting. Experiment with different tucking placements, like tucking part of your top in to the side of your pants or skirt, or only tucking in the front piece and letting the back of the top hang freely. There's no unwritten fashion rule that says you have to leave your shirts either completely tucked in or untucked, so go to town with whatever variation meets your fancy, and even add a belt in to the mix.
[Photo: Jess Ann Kirby]
Tie Your Tops
For another fun twist on tops you already own and seem sick of, give them a fun little knotted tie. A ton of retailers now make tops with excess material specifically for tying your clothes, so save yourself time and money by doing this with tops you currently own. Plus, it takes a matter of 10 seconds to DIY. Once you're wearing the top, pull a section of material from the front or side, depending on where you want the tie. Wrap part of the pulled fabric around two of your fingers and loop it into a circle. Take the hem of the material and pull it through the loop. Bam! All your tees can now get a wardrobe makeover. Button downs can also tie in the front especially easily, so upgrade your go-to workwear look with a slightly more feminine touch.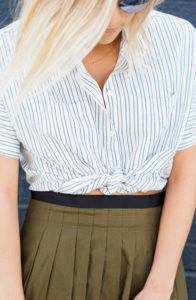 [Photo: Damsel In Dior]
[Photo: Shutterstock]