If you love beauty, you probably love strolling around stores like Sephora and Ulta and testing out, first hand, how gorgeous makeup colors look on your own skin. Testing makeup before a purchase is a surefire way to ensure you aren't spending a lot of money on foundation, powder, eye shadow, and lipstick shades that are going to wash you out or do nothing to enhance your natural beauty. We really are thankful that stores provide a testing option to their customers. But, at the same, some really nasty things can happen when you expose makeup to air and make it assessable to hundreds of people a day.
A California woman recently sued a franchise Sephora for $25,000, claiming one of its lipstick testers gave her oral herpes. The woman says she never had a problem prior to her visit to the Los Angeles store in 2015, and her lawsuit argues that Sephora doesn't explain the dangers of encouraging "common use" lipstick use by having "shelves and shelves of open lipstick tubes."
I must admit: I'm guilty of having swiped a lipstick color on my finger before applying it to my lips. In order to prevent anything horrible from happening, here are a few tips to keep in mind on how you can test beauty samples for germs that can cause herpes, impetigo, and staph infections.
1) If You See An Opened Makeup Container, Keep Walking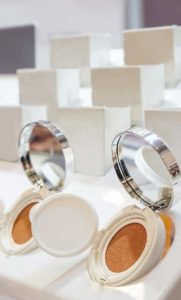 The safest way to keep germs at bay is by avoiding them altogether. And spotting an opened makeup container — one that may have been opened for days — is pretty much a clear indicator that it could contains germs. Walk right by these containers and search for those that are closed and have disposable tester tools because there's no way on earth you want to share a sponge or makeup brush with a hundred other people, regardless of whether you're testing a lipstick, gel eyeliner, or blush. Same walk away rule applies if a makeup compact contains makeup that has incurred a few injuries and looks like it's been hanging out on a shelf for awhile.
2) Do A Bit Of Prep Work To A Product Before Testing It
See that little alcohol spritzer on the counter next to makeup product samples? You may think that's just there to help you wipe off your makeup, but it serves another great purpose: prepping a sample before you apply it. Spray alcohol on a swap and use it to clean the product first. Never apply it directly to your skin — instead, use a clean, disposable applicator to transfer the color to your face.
3) Better Yet: Don't Let Samples Touch Any Part Of You Face
We know: it can be really difficult testing a gorgeous metallic lipstick unless you apply it to your lips. But it's far more important to be cautious and avoid germs, so always apply test samples to places like the back of your hands or neck. Then be sure to clean them thoroughly with an oil cleanser or water.
4) Mascara Samples? Nope.
Another time you're just going to have to walk away? Any time a store offers public mascara samples. Considering how you were probably told as a teen not to swap mascara with your closest friend because the fear of spreading pink eye or other eye infections is real, you should definitely take your chances and just buy the lengthening or volumizing mascara without trying it out first.