Oh, beanies. Where do I even begin? Let me start off by saying, if you think you can't rock a beanie then think again. They are universally flattering and come in so many different styles. It would be nearly impossible to find one that didn't look good on you. Beanies can be intimidating if you don't really know how to wear or style them. Luckily, you've come to the right place because I'm about to tell you five different ways to wear a beanie. Keep on reading for more info on how to wear a beanie.
[Photo: The Fashion Guitar]
1. Slouchy
The first way to wear a beanie is probably the most classic. It's a slouchy look that's pulled down past your forehead a little. With this look, there is no hair showing since the beanie is pulled down to your forehead. This style is also probably the easiest because you don't have to fuss around with it too much. Simply put the beanie on your head and pull it down to the place you feel most comfortable. Your slouchy beanie will give you an effortlessly cool look.
[Photo: Lee Oliveira]
2. Pushed back with hair showing
The second style is a little similar to the first, with the only difference being this one is pushed back and not pulled down. Even though it's pushed back, your beanie will still have a slouchy look to it. To achieve this style, place the beanie on your head and position it with a few inches of your hair showing in the front. You can also pull it down over your ears if it makes the beanie feel more secure.
[Photo: VivaLuxury]
3. Hair tucked
The third style may be a little bit harder for everyone to pull off, but it works for people with both long and short hair. The best beanie to use for this is a loose, chunky or slouchy beanie. You can either tuck your hair into the beanie before putting it on your head or after, whichever you find easier! It's best to leave a little bit of hair showing in the front since the rest of your hair is tucked away. You can also pull a few pieces of hair out on the sides (like wisps) for a messy, undone look.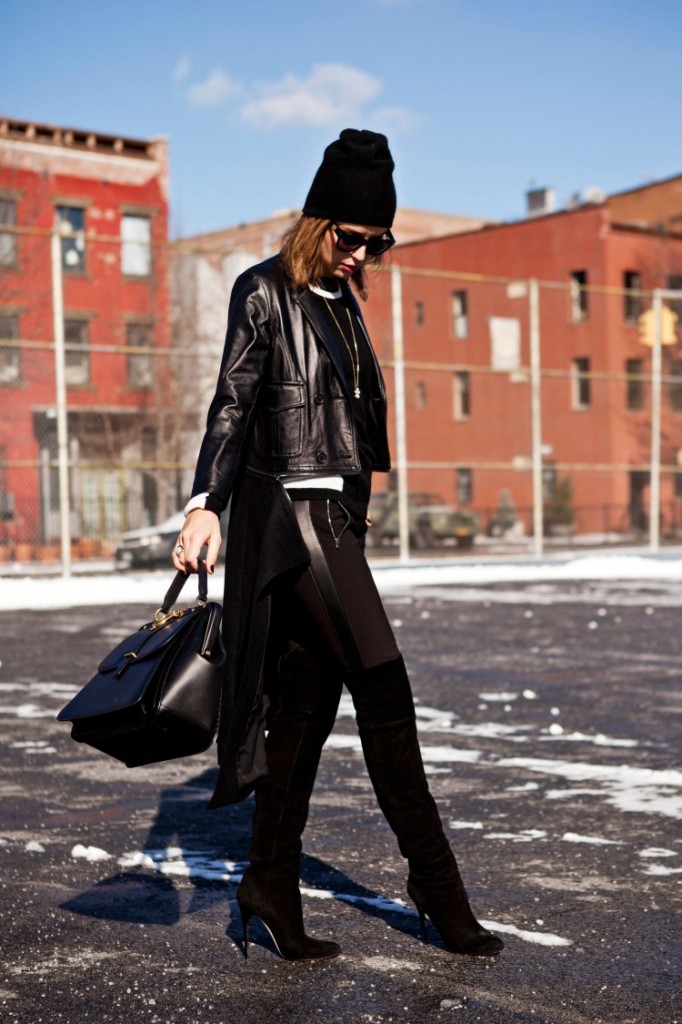 [Photo: The Glamourai]
4. Pointed
The fourth style is playful and fun. Not everyone may feel confident rockin' this pointed or "high" style as it's a bit more quirky. Use a more fitted beanie for this look because a slouchy one won't stay up and have that pointed look. Place the beanie on your head and pull it down on your forehead a bit. Using your thumb and forefinger, gently tug at the top of the beanie to create a point.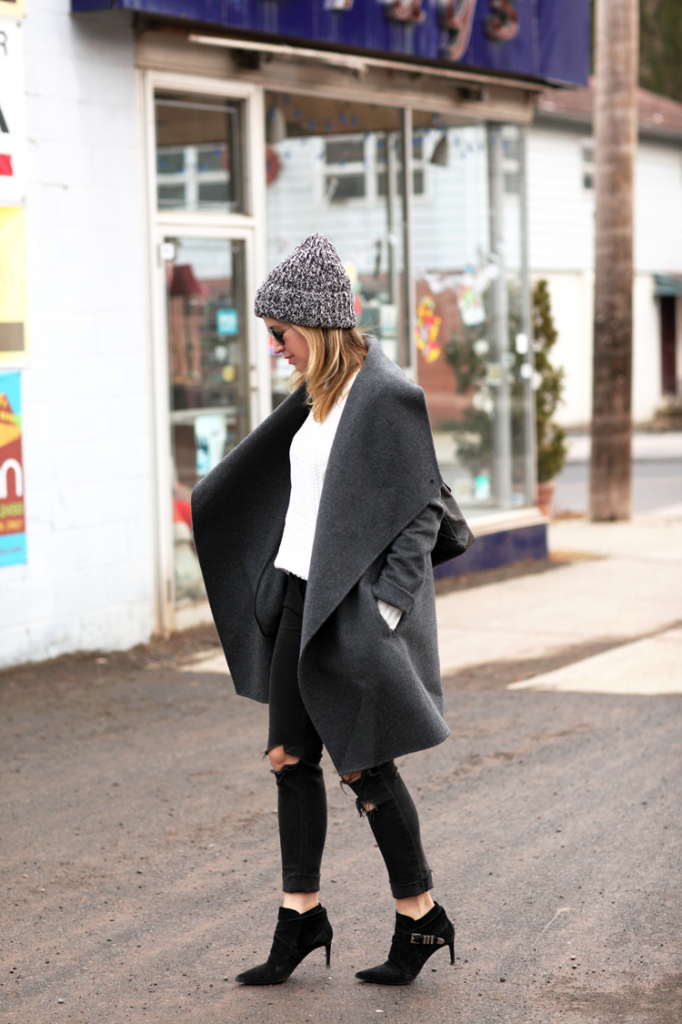 [Photo: Brooklyn Blonde]
5. Cuffed and fitted
The fifth style is also popular like the first one, and pretty much everyone can pull it off. For this look, you'll need a fitted beanie with a cuffed edge, or you can create the cuff yourself. To make your own cuff, simply fold up the rim of the beanie to your desired width. Put the beanie on and keep it close to your head so it looks more fitted.
Don't miss what to wear on a first date and how to wear a poncho!
[Photo: Peace Love Shea]