Looking for a way to liven up your go-to fall looks? Say hello to hats. For whatever reason, the second it turns fall, everyone starts ordering PSLs and busting out felt hats for stylish head protection. Whether you have a dainty little head or fall into the 96% head size percentile, hats make the perfect accessory, especially if you're stuck in an outfit rut. But the size of your head is a major factor in determining the type of hats you should don. I have an incredibly small head, and my friends once told me that I looked like the Quaker Oats Man when I tried on a wide-brimmed, floppy hat. Safe to say I didn't buy that one. Spare yourself some major hat shopping embarrassment and check out our guide on how to wear fall hats.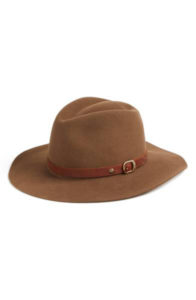 [Photo: Nordstrom]
First thing's first, know your head circumference. Grab a measuring tape or a piece of string and wrap it around your head where a hat would fall. Starting above your ears and hitting the middle of your forehead, loosely wrap the string or tape measure around your entire head. If you used a piece of string, measure it against a ruler or tape measure. Compare your measurements to a hat sizing chart for the most accurate size, and use it whenever you're shopping online to find the best fit. But, be aware that a lot of fall hats might only come in or two sizes. It's also way easier to hat shop in person so you can actually try them on for size.
Next, your head size and face shape come into play. Here are the best hat picks for your specific cranium:
Small heads. Obviously, you don't want something that overwhelms your petite head or that's constantly on the verge of falling off. While floppy, felt hats are all the rage for fall, they're not for everyone. You need more short-brimmed head accessory pieces with smaller crowns. Or, if you're struggling to find one that won't slide off, consider looking in the junior's or children's department the next time you go hat shopping.
Big heads. There's no shame in having a big head. It probably just means you have a bigger brain than the rest of us. Own it. And, you have better luck with hat selections. If you do have a head that errs on the larger side, you can rock a super floppy-brimmed hat to your heart's content.
Round faces. If you have a round face, shop for hats that create the illusion of length. A hat with a taller crown can do the trick. Avoid round hats because they can actually make your face look fuller.
Square faces. For square faces, turn to round or curved headgear to balance out your angular facial features. Shop for hats or beanies with a round crown, and steer clear of any styles with harsh angles.
Heart-shaped faces. Many women have love/hate relationships with fedoras, but this hat style looks stunning atop any heart-shaped face. Hats like this with short, angled brims can make your chin appear wider and emphasize your spectacular jawline.
[Photo: Damsel In Dior]