Ever since Dorothy clicked her ruby red slippers together and said "There's no place like home," glittery shoes have conjured up thoughts of the Wizard of Oz.  But things that sparkle are all the rage now, including sequin shoes (we blame Suri Cruise). Our favorites are Kate Spade's gold ballet flats with a bow detail that gleam.  But the question remains: how do you wear this shimmery style without looking like you're not in Kansas anymore?
It pretty much goes without saying that when choosing a sequin slipper, stay away from red. Gold is fairly neutral and extra festive. Try a loose fitting black dress; a gathered waist and ruching at the neck makes Charlotte Ronson's chiffon design flattering but also feminine. Next, we suggest a simple, but elegant black blazer to keep warm and some stylish patterned tights. Finally, top it all off with a trendy crossbody bag for a chic touch of downtown.
Kate Spade Harper shoes, $279
Charlotte Ronson Crinkle Chiffon dress, $257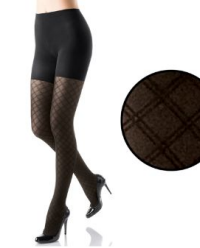 SPANX: Trinket Tight-Endtights, $28
Marc by Marc Jacobs Totally Turnlock Derby Mini Crossbody bag, $178
For more in the way of style tips, be sure to check out our guides to the best flats and platform shoes.