There's nothing quite as precarious in the fashion world as attempting to mix prints and patterns. Obviously, some fashion-forward gals simply have it in their blood; it's like second nature to simply mix a floral with a polka dot with a stripe with a graphic print. The rest go the safe route and choose pairing a print with something simple, like black. Well, those from the latter group, take notes on the following.
We'll show you how to rock the mixed print look without looking like you got dressed in the dark.
The trick to making this look work (and making it look grown-up) is to stick to neutral colors or monochromatic prints. One small print balances out a larger print, stripes compliment florals, etc. As for accessories, neutrals in the same tone (warm or cool) are key for adding polish.
This feminine Anna Sui Ferm Top ($66) is a subtle starting piece with beautiful lace and ribbon details.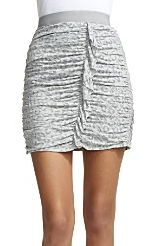 A Rebecca Taylor Ruched Leopard Print Skirt ($125) is punchy, but in a simple gray palette it can easily pair with another contrasting color.
These cognac Miss Sixty Sasha Pumps ($150) are architecturally interesting, but neutral enough to let the prints take center stage.
Finally, this Top Shop Shawl Collar Boyfriend Blazer ($135) in a perfect cream hue is a simple top layer to finish this outfit off, and because it's slightly oversized, it balances out the femininity of the ruffled separates.
For more looks like this, check out our guides to dressing stylishly and tips on how to style trends, like blazers and platform pumps.