Over-the-knee boots are everywhere, from your Instagram feed to every street style blog. This pair by Stuart Weitzman even made our holiday gift guide! You could say that they are the "it" shoe of the season, but the thing about over-the-knee boots is that they are a bit intimidating to actually wear. We assume unless we're long-legged supermodels, we won't be able to pull them off. Well, I am here to debunk that myth and tell you how to wear over-the-knee boots.
When it comes to any trend, it's never about what you're wearing. It's just a matter of how you're wearing it. So let me tell you, regardless of where you stand, short or tall, it doesn't matter! You can definitely pull off over-the-knee boots without looking like they're swallowing you. It's just a matter of how you do it.
Here are our tips on how to wear over-the-knee boots.
1. Create the illusion of longer legs.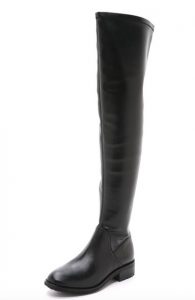 Sam Edelman Remi Stretch Boots ($133, down from $190)
I recommend pairing black over-the-knee boots with either black tights/leggings/or dark-wash denim. By doing so, you're creating the illusion of longer, slimmer and leaner legs, just like the models down the runway. By wearing the boots in a way that's more subtle, against the same color, you're making sure that you are wearing the boots versus the boots wearing you. If you're wearing the boots with a dress, make sure the dress hits mid-thigh. If you're wearing the boots with a blouse, make sure it hits right at your hips. This allows the proportions to hit you exactly where you want them to, instead of looking like your clothes are wearing you down.
2. Keep the outfit casual.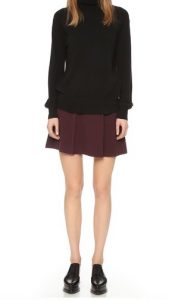 Theory Arryn Skirt ($245)
Stripe Boatneck Sweater ($55.96, down from $69.95)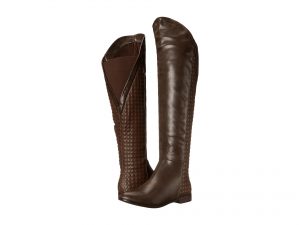 Chinese Laundry Racer Over The Knee Quilted Boot ($89.95)
Depending on what you wear with over-the-knee boots, they sometimes wind up looking a bit too risqué for the daytime. The trick to overcoming that issue is to keep your outfit casual while still wearing bottoms that end above the mid-thigh mark. Pair a mini skirt with a slouchy t-shirt or sweater, throw on your go-to jacket and you're set!
3. Choose fitted pieces.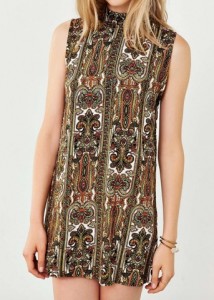 Motel Holly Mock-Neck Dress ($39, down from $54.99)
VOLATILE Carina ($75)
This is a tip that's especially important for more petite gals out there (like myself). I always thought I could never wear over-the-knee boots, but the trick to making them work on a smaller frame is the outfit. Make sure all your clothing fits perfectly from head-to-toe. By keeping a fitted silhouette, you avoid these bold boots from overwhelming your figure.
4. Make it office appropriate.
Topshop Dandelion Print Midi Dress ($59,99, down from $105)
Michael Antonio Hollywood ($79)
This is when that mid-thigh rule goes out the window. You want to wear the right proportions, but you don't want to look inappropriate for work. We recommend pairing over-the-knee boots with something that does cover your thighs, but not in a way that will add on bulkiness. A great pairing would be a midi dress/skirt, or something that falls either right at your knees or right below. This way, the skirt works to cover your thighs without tucking away your figure or minimizing your height.
And that is how to wear over-the-knee boots! Let us know what you think of our suggestions in the comment section below.
And don't forget to check out: Wearing A Hair Tie On Your Wrist Is More Harmful Than You Think, Kylie Jenner's Pout-Fect Lip Kits Sold Out In Literally A Minute, and This S'Well X Mara Hoffman Water Bottle Is Great For Gifting
[Photo: Brooklyn Blonde]