When winter comes, we all want a jacket to keep us warm. Just ask Sarah Jessica Parker or Carrie Underwood and they'll tell you puffy coats and vests are the perfect answer, but not looking 10 lbs heavier is easier said than done. So we scoured the web to find you the best outfits to wear with these down jackets – just in time for the cold weather.
Puffy Vests:
Vests are the perfect accessory for fall, especially for a cold morning that you know will get warmer. For this North Face Puffy Vest ($149), pair it with a more casual outfit like jeans and boots – like these washed out Vintage Leigh Skinny Jeans ($70) and Eric Michael 'Vogue' Over The Knee Boot ($250). Throw on a plaid button down shirt like this one from C&C California ($98). Think feminine lumberjack who's totally in style this fall.
Puffy Coats: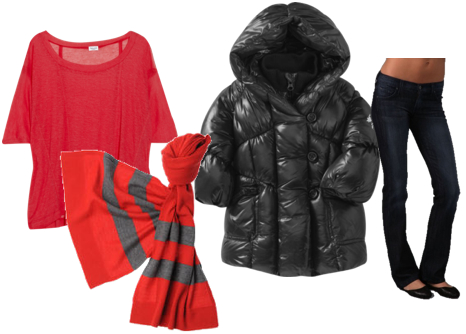 When the snow starts to fall, make sure you're prepared with this Gap Puffer Coat ($50). Dress up your coat with a pair of bootcut jeans, we're loving these James Jeans Ankle Boot Cut Jeans ($172) with a pair of flats. Search for a shirt made with a thin material in order to keep the puff to a minimum. Try this Splendid A-Symmetric Jersey Top ($74) and add this striped See By Chloe Scarf ($69).
Confused about other trends? Check out more of our How To Wear posts. Shop our guides to the best off the shoulder tops, the best heavy scarves, and the best flat boots. Sign up for SHEFindsMail and receive exclusive fashion updates.