There used to be an ongoing debate on whether or not sneakers were acceptable to wear to work, but times are a-changing! Dress codes for typical corporate offices range from formal-business to business-casual, to casual, and if it's the latter, sneakers are totally acceptable. If you work in creative spaces, lucky you, the dress code is pretty lax. But, even offices that have a strict, formal business attire dress code, usually have "casual Friday" where sneakers are acceptable.
The trick to wearing sneakers to work is pairing them with pieces that are a little more formal for balance. Think blazers, slacks, sweaters, dresses and suit pieces. "My trick is to put together an outfit that you plan on wearing heels with, then opt for the sneaker," says Jacey Duprie, fashion blogger behind Damsel in Dior. "They're a wonderful alternative to aching heels all day and super comfy for the girl on the go."
Here are some typical work attire pieces that pair well with sneakers for a look that's stylish, comfy, and cool yet still work-appropriate:
 A Blouse With A Fun Print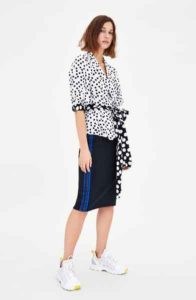 Shop the Look:
Zara Polka Dot Print Top ($45.90)
Zara Midi Skirt With Side Stripe Detail ($17.90)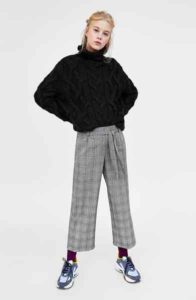 Shop the Look:
Zara Cropped Trousers ($29.90)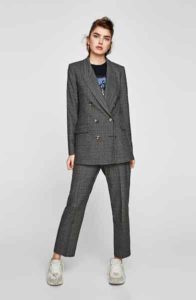 Shop the Look:
Zara Double Breasted Checked Blazer ($129.00)
Zara Checked Trousers ($69.90)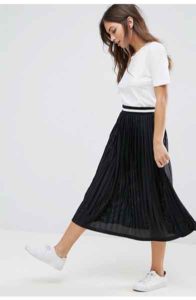 Shop the Look:
ASOS Perforated Pleated Midi Skirt with Sports Tipped Waistband ($45.00)
Shop the Look:
ASOS Weekday Jumpsuit ($103.00)
Converse Chuck Taylor All Star '70 High Top Sneakers In Beige ($84.00)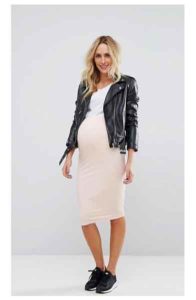 Shop the Look:
ASOS Maternity Petite Longer Line Midi Pencil Skirt in Jersey ($24.00)
ASOS Lab Cropped Leather Jacket with Belt ($340.00)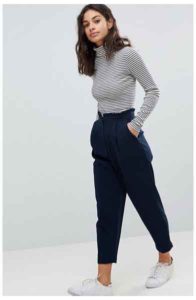 Shop the Look:
ASOS Petite Tailored Tapered Pants with Ruffle Paperbag Waist ($48.00)

ASOS Date Night Lace Up Sneakers ($32.00)
Another tip for wearing sneakers to work is to make sure that they are a fresh, clean pair. The sneakers you work out in at the gym should not be the same ones you wear into the office. "I have sneakers for the gym and sneakers for work—I would never wear the workout ones to the office, ever," says Sophia Panych, deputy digital beauty director at Allure. Also, opt for a casual pair of sneakers that work with almost anything. "Find sneakers in neutral colors — white, black, grey, navy, or brown — that are simple in design and can be interchanged with a variety of outfits," Complex recommends. Sneakers that have a simple design won't clash with your other pieces, creating a clean, put-together look. Here are some of our favorite classic sneakers to wear to work.
Adidas Originals Stan Smith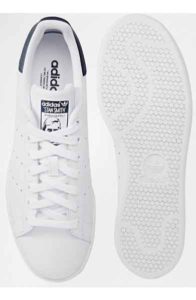 Adidas Originals Stan Smith Leather Sneakers In White M20325 ($60.00)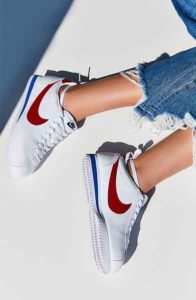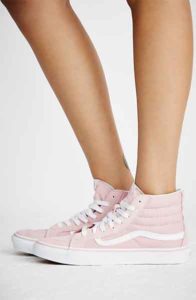 Vans Sk8-Hi Slim Hi Top Sneaker ($65.00)
So, forget the heels and loafers this week and throw on a pair of your favorite sneakers! And, for more inspiration on how to wear sneakers to work, check out these pastel New Balance sneakers and rose gold sneakers at SheFinds.com!
[Photo: Shutterstock]