A few weeks ago, we reported on a new phenomenon in the increasingly expanding world of stretchy, skin-tight pants: velvet leggings. Oh yes, this throwback style is already the winter's coziest trend. But just because you like them (and who wouldn't want to spend a cold day swathed in the plush material once reserved for royals?) doesn't mean you know how the heck to wear them. That's where we come in.
This may go without saying, but when it comes to velvet pants, the first rule is to stick with black. When you were six years old, it was okay to run around in green and purple velvet spandex, but now you'll want to look more sophisticated. Next, try a simple but fun top, like Vince's ruffly, cascading design. Even though your party pants are made of velveteen, you want your outfit to exude maturity – so we suggest a stylish boyfriend blazer in gray and some sleek black booties. Finally, glam up your otherwise chiaroscuro-central outfit with a glitzy statement necklace.
David Lerner Velvet Leggings, $88
Vince Cascade Stretch Silk Blouse, $175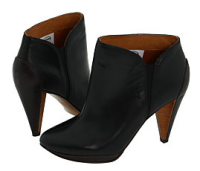 Fossil Allison Bootie, $142
Conspicuous Stretch Wool Boyfriend Blazer, $280
Lee Angel Etienne 18 Strand Necklace, $155
For more tips, check out our guides to the best in blazers, leggings, and necklaces.