Yes, it's true – the reign of skinny jeans has been put on pause, giving other jeans a try. Rachel Zoe declared that wide leg jeans are actually more flattering and a better go-to than their skinny counterparts. But wearing bellbottoms without looking like a cast member on That 70s Show isn't easy. So follow our suggestions and make wide leg jeans work for you:
Wide Leg Jeans With Flats: A Flattering Lunch Date Outfit

For an everyday outfit, feel free to hide a pair of flats under the oversized flare.
We love the sophistication of thesse Anlo Pascale Trouser Jean ($205) with a little splash of color from these Sam Edelman Calypso Flat ($98.95). Keep the rest of our outfit basic, with a simple cardigan, like this J. Crew Valentina Cashmere Cardigan ($160).
Add some simple, yet matching accessories such as this Ariat Mirabella Belt ($41.40, down from $46) and this Roxy 'Lucky Streak' Seamed Hobo Bag ($44).
Wide Leg Jeans With Pumps: Casual Friday To Drinks In A Heartbeat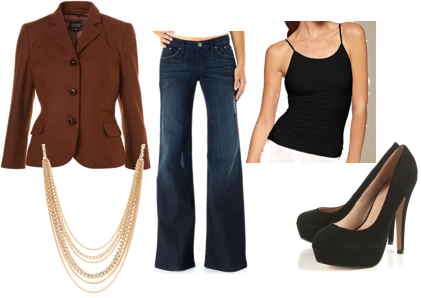 Whether for a nighttime drink or a casual Friday at the office, wide leg jeans look super flattering when paired with heels. Hello, mile-long legs.
A quality pair if dark wide leg jeans, such as these Alloy Truck Stretch Wide Leg Jeans ($40), are a must have for every fall wardrobe. Go for a more executive look and team up this Three Button Shrunken Blazer ($125) with a Classique Entier Camisole ($38). We suggest leaving the jacket open.
Grow a few inches and elongate those legs with these Topshop Sakura Suede Heels ($125), which match everything under the sun. And throw on this Tarnish Mutli Chain Necklace ($32) for a finishing touch. Tada – a trendy version of the disco classic.
Confused about other trends? Check out all of our how to wear posts. Shop our guides to the best wide leg jeans, the best blazers, and the best cardigans. Subscribe to SHEFindsMail and receive exclusive fashion updates in your e-mail.