If you're anywhere in the country, except maybe the Southwest and Southern California, you're probably freezing right now. It's pretty harsh out there, and needless to say, we're ready for spring to come! But it will have to get significantly warmer before we can even think about shopping for sundresses and sandals.
Still…we're in the mood to shop! And we all need something for those in between days that's easy to put together, comfy, can keep us reasonably warm if we add in a few accessories, and looks great. Ladies, you're in luck because we've found the perfect combo. Meet your winter to spring uniform: oversized sweaters with skirts.
Here's how to wear it:
1. If you go for a print, don't use a busy pattern. Chunky knits add volume, and with all that heavy fabric, you'll want to keep it simple. Sure, there are girls out there who can rock a Bill Cosby sweater three sizes too large and still look slim as ever, but most are not so lucky. Go for something more subdued or classic, or look for something with a graphic.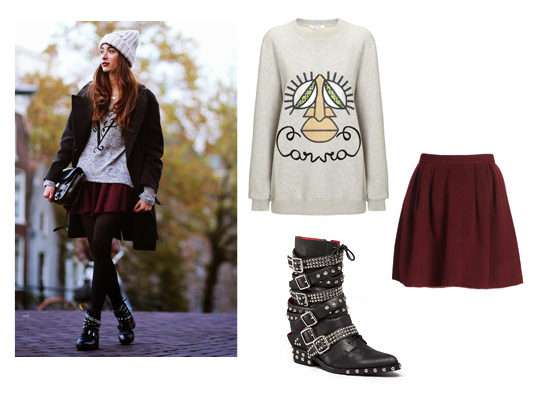 Get the look: Carven Grey Embroidered Face Sweatshirt ($410); Catherine Malandrino Antigone Wool Skirt ($129.99, down from $257); Jeffrey Campbell Wedge Booties In Draco Studded ($345); By Zoe Oversized Color Block Coat ($175, down from $416.68); Dorothy Perkins Grey Chunky Beanie ($9); Proenza Schouler Mini Black PS11 Shoulder Bag ($1,675); and Lauren Ralph Lauren Opaque Control-Top Tights ($18)
2. Play with texture. The best thing about cool weather ensembles are all the fun textures you can experiment with. We love the idea of a fuzzy sweater with a slick leather skirt, PVC and pony hair, or cable knit and sequins.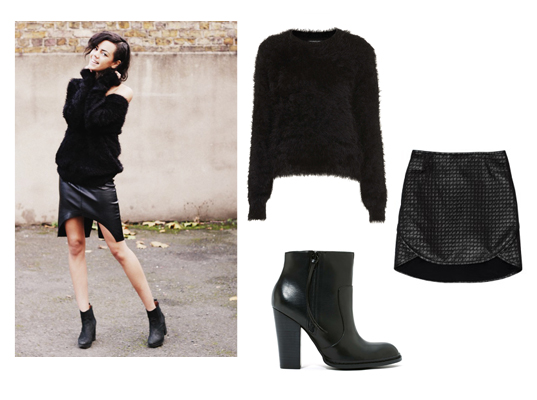 Get the look: Topshop Knitted Fluffy Jumper ($60, down from $76); Tibi Quilted Lurex Jacquard Skirt ($199.50, down from $285); and Shoe Culte Equine Bootie ($98)
3. Mix it up with menswear. Being girly is cool, but it's also fun to borrow from the boys. Add a jazzy oxford, brogue, or loafer with this look, all of which (bonus) will be easy on your feet. For the brave: throw on some socks that stop just above your ankle.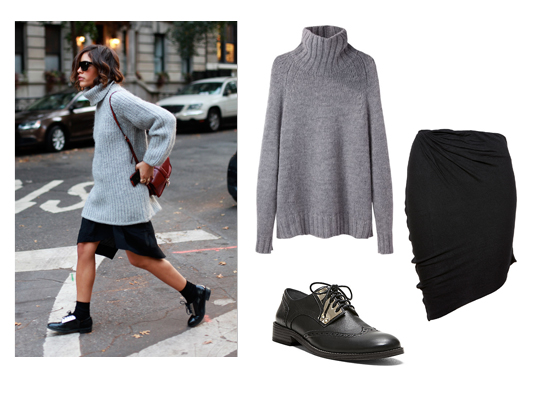 Get the look: La Garçonne Moderne Didon Chunky Turtleneck ($450); Surface To Air Drop Skirt ($96, down from $160); Steve Madden Beekman Oxford ($89.95); MICHAEL Michael Kors Logo-Print Crossbody ($148); and Ray-Ban Boyfriend Flat Top Frame ($145)
Want more? Find out how to make your closet look like the ones on Pinterest, Super Bowl commercial teasers, and Michelle Obama's #SOTU Azzedine Alaïa dress.