Getting your teeth whitened at the dentist can cost upwards $800… and that's just for one treatment! If you want a gorgeous white smile, but would also like to save yourself money and time, you can get the same results at home. Really! Thanks to advances in modern science, a whiter, brighter smile can be achieved right within your very own bathroom. How? POPWHITE's color correcting toothpaste and mouthwash duo. I recently started using the combo and I can't believe how effective this simple treatment has been. Here's how it works:
Step 1: Start with a POPWHITE color correcting kit. I really love this brand because it uses natural ingredients and doesn't make your teeth sensitive.
Step 2: Use the POPWHITE toothpaste. Be forewarned: it is purple! Believe it or not, the purple color cancels out the yellow stains common on teeth, so start brushing!
Step 3: After your are done brushing, use the toner aka the mouthwash. This toner not only brightens teeth, but it also adds sheen and freshens breath using peppermint oil.
Repeat these steps twice a day for two weeks and you'll see major results!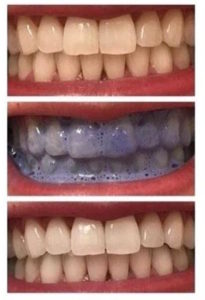 Be sure to also check out how to wear overalls and the natural way to get longer lashes.