Chances are your makeup bag is already stocked with creams, serums and cosmetics galore. But the one item you're probably missing? Daily supplements! In case you missed the memo, beauty starts from within which is why it's so important to be just as diligent about what you put into your body as what you're putting on the outside.
We'll be the first to admit, venturing into the world of vitamins and supplements can feel overwhelming whether you're a newbie or a pro. There are just so many options out there to enhance everything from your hair and nails to your skin and complexion. One of our go-to brands for supplements that make it simple? HUM Nutrition. Not only are all their products gluten- and GMO-free, but their supplements are high quality, potent and clinically proven to work.
We also love HUM because they have so many options. No matter what you're looking for, chances are they have a supplement that will meet your needs. Here are the four every woman should keep in her makeup bag: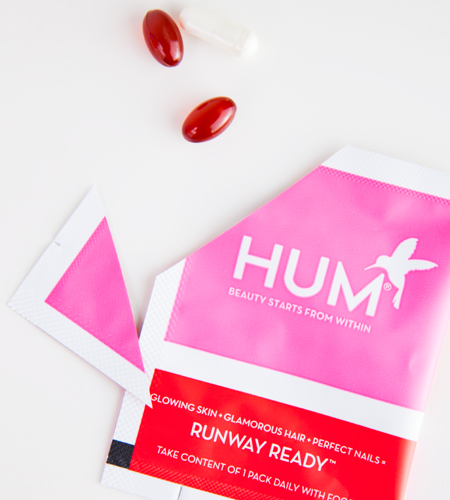 These chic daily packs contain a mix of plant-based omegas, GLA, ALA, antioxidants and B-complex to give you shiny, fuller hair, stronger nails and glowing skin. Who doesn't want that?! Store some packs in your makeup bag or purse so you always have one with you.
Collagen repairs and protects the skin to make it firmer and improve elasticity, so if you're looking for a youthful complexion this is the supplement for you. It's packed with collagen peptide, hyaluronic acid along with potent antioxidants like vitamin E, Resveratrol to help your skin age beautifully.
These ultra pure fish oil packed softgels promote even skin tone and a healthy heart, brain, and body.  OMG also helps eliminate dehydrated skin, calms signs of redness, and clear acne with its anti-inflammatory properties. And no, they don't taste or smell like the fish (in case you were wondering!).
This superfood powder is filled with antioxidants and enzymes to improve your energy and boost your metabolism and skins radiance. Simply mix one packet (available in Mint Chocolate Chip and Tahitian Vanilla + Berry) with 8 ounces of your favorite drink and you are good to go. Have one serving in the morning before you get ready or keep one in your bag in case you need a midday pick me up.
SHOP MORE ESSENTIAL BEAUTY SUPPLEMENTS AT HUM NUTRITION NOW
The editors at SheFinds wrote this post on behalf of HUM Nutrition and received compensation as part of our agreement.