As a New Yorker always on the lookout for the next great weekend getaway, Portland, Maine has been on my radar for quite some time. After being named 2018's Restaurant City of the Year by Bon Appetit, my inner foodie has been dying to check out what the buzz is all about. And as a lover of all things travel, I was dying to get a glimpse of that classic New England shorefront charm. So when I was offered a stay at the Hyatt Place Portland – Old Port, I didn't think twice about booking my ticket there.
Although Portland becomes filled with tourists in the summer months (for good reason!) the small-town, everyone-knows-everyone charm gushes from every foot of the cobblestone streets. My hotel, the Hyatt Place Portland – Old Port was no exception in creating that feeling of hospitality. From the moment I was picked up from the airport by the hotel shuttle, I was greeted with a genuine smile from the all of the Hyatt Place staff — and those smiles remained a constant for the entirety of my stay.
Located in the heart of Old Port, Portland's buzzing downtown area, Hyatt Place had everything I needed. It is steps away from Portland's hottest restaurants, bars, and shops, and a short drive many of the scenic destinations the city has to offer. The hotel offers beautiful scenery itself, with an incredible view overlooking the harbor right outside of your window; and also showcases all of the wonderful art the city has to offer, exhibiting amazing pieces created by local artists throughout the entire hotel.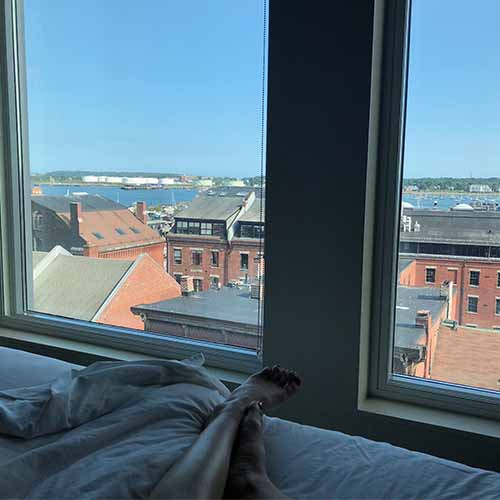 With Portland's newfound reputation as a culinary destination, it came as no surprise that Hyatt Place's cocktail bar and lounge fit right in. The cocktails are expertly designed using local and seasonal ingredients, making for some incredibly fresh drinks to enjoy as a kick-start to evenings out.
Although Hyatt Place does offer a delicious complimentary breakfast,  there is absolutely no shortage of amazing restaurants to indulge in outside of the hotel grounds. For breakfast, make sure to check out Holy Donut for their famous potato donuts — yes, potato. And if you're looking for something on the lighter side (aka avocado toast), you can't go wrong with a visit to the adorable LB Kitchen.
For lunch, take your pick of the city's vast array of just-caught-that-morning lobster rolls. Highroller has the reputation for the best in town, and at Porthole, you can chow down on a 3/4 pound roll in a classic New England pub setting. Because did you even go to Portland if you don't eat your weight in lobster? However, if shellfish isn't your thing (no judgment), make sure to check out Duckfat — a local favorite serving up some seriously amazing sandwiches and heavenly poutine made with… you guessed it: duck fat.
And if you haven't fallen into a food coma by dinner time, get your phone ready to make some reservations (seriously though, restaurants here fill up very quickly). My favorite dinner spots of the week were Fore Street — a rustic tavern boasting a new, fabulous menu every day; and The Honey Paw, a hip Asian fusion joint with a lamb curry that I still daydream about.
When you're not chowing down, Portland has plenty of activities to keep you busy. Art junkie? Make sure to check out Portland's Art District and the impressive Portland Museum of Art. If you're more adventurous, take a ride on a classic Schooner through the Casco Bay for an afternoon, or visit the postcard-worthy Portland Head Lighthouse, Maine's oldest lighthouse. If geeking out over hops and grains is more your speed, book a ride on the Maine Brew Bus. This schoolbus-turned-brewery-shuttle takes you on a guided tour of Portland's best breweries — with beer tasting included, obviously.
I have to admit, like any cynical New Yorker, I was skeptical of Portland's recent hype prior to my trip — however, my visit exceeded all of my expectations. From the warm hospitality at Hyatt Place to the city's warm energy, and of course the pounds of delicious food I devoured, Portland ensured that I returned home fully relaxed (and stuffed).