Working for SHEfinds means that I am usually pretty aware of all things online shopping–who's having a sale this weekend, which stores have the best return policies, where you can get a really cute sweater for $24, etc. But I was totally behind the ball on a company called Stitch Fix that has revolutionized online shopping. I had no idea people were enjoying personal styling AND clothing delivery service all in one (while I'm over here in the dark ages picking out my own clothes. Ack!).

Quite simply, Stitch Fix sends you a box of clothing in the mail and you can keep or return whatever you'd like. How do they know what to send you? When you sign up, you take a really thorough (but fun to do!) style survey, which asks everything from the obvious (your sizes, price range) to the less-obvious but oh-so-necessary (what body parts you want to accentuate versus cover, what prints or colors you avoid at all cost, how often you need to dress up for work versus go casual). I actually really liked taking the test–it made me more mindful about not only my personal style, but how I tend to dress for my body type. It wasn't tedious at all–I wanted to take time thinking about each question and giving the best answer in anticipation of how the Stitch Fix stylist would pick pieces for me me based off the results.

Bonus point: The site is very easy to use. After filling out the initial profile, I created an account and picked the date of my first "Fix"–two weeks away! I had no idea what I was getting, but I was already excited.
When my package arrived it felt like Christmas. A little brown box waiting for me on my door step–filled with clothes hand-selected by a stylist who had poured over my style questionnaire and my social media accounts (I provided a link to my Pinterest style board–the more info, the better they say). I have never used a stylist before, so now I know how celebs feel when Rachel Zoe shows up with racks of "options."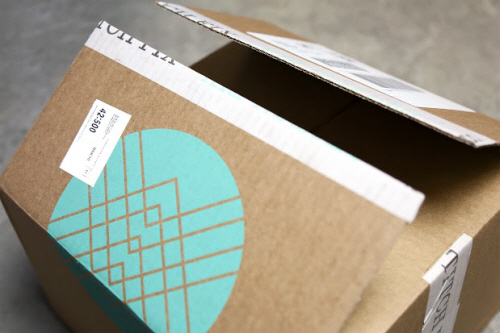 I opened the box and was immediately impressed by how my request for a silk racer back tank and dark skinny jeans was answered. To a T. I had also mentioned that I'm blonde and look good in coral, and also that I love a deep V-neck, and I literally received a coral deep V. Unfortunately the details on the tee weren't quite right, but it's allllll good because I'll just send it back (as I'm doing with a gold hammered necklace that I didn't die for either).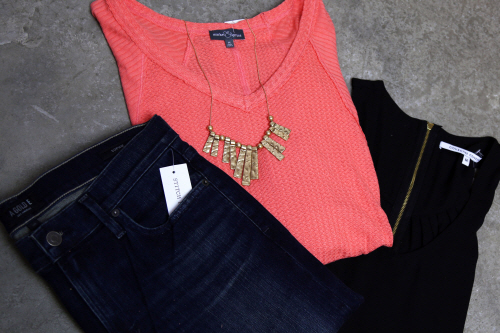 The piece de resistance, however, was a cream shearling shawl collar sweater. Nowhere in my profile did I mention a shearling shawl collar sweater, and yet here it was. I put it on and it fit perfectly and looked SO COOL. This is where Stitch Fix really hit the home run for me–obviously I know what pieces I always gravitate towards–the boyfriend sweater, the perfect tank–but I might not have even known that I wanted or needed a sweater exactly like this. It was the piece I was most excited to wear (and did, the next morning to work). It was the most exciting part of the delivery–something new and unexpected. Touché, Stitch Fix.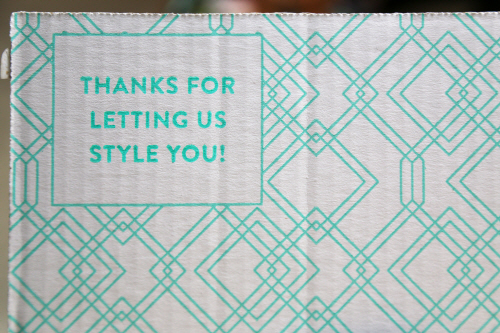 I absolutely plan to use the site again soon (probably next paycheck) because of how easy and rewarding the process is. You don't have to overthink it or spend hours searching online. You send back what you don't want in a pre-addressed USPS package. I mean, how easy is that?