A "shopaholic" is just a person that really, really likes to shop–right? A woman (or man) with a fabulous shoe collection, who always carries the latest "it" bag, who can't resist a good deal when it lands in her inbox, whose credit card statement is ten pages long. It's as harmless as eating too much chocolate or biting your nails, right? 
Think again. The truth is that 5 percent of the population suffers from this very real addiction—and with serious consequences. According to the American Journal of Psychiatry, more than 1 in 20 Americans have a shopping habit that jeopardizes their relationships or careers. And with the anonymity of online shopping, real spending problems can go unnoticed for years (your FedEx guy might have some suspicions about all those brown boxes, but your friends and family have no idea what's going on). We spoke with Nadia*, a wife and mother of three, who lived with an online shopping addiction for years. Here is her story: 
My online shopping addiction started in the mid 90s, when I first learned how to use a computer. Once I got online to this so-called 'information highway' (as it was called back then), I realized there was a real material world out there. The economy was good then and I had a lot of discretionary income thanks to my husband's job and an inheritance from my family. I decided that this could really be a fun thing to do. I already loved fashion and going into New York City to shop at all the great stores, and I just thought about how many more great stores I could access without having to physically be there.
My first major shopping sprees were on eBay. eBay was limitless because you could look for and find just about anything. It became a real addiction for me almost immediately because I realized right away that there were such great bargains to be had. The prices were better than straight retail. Granted, it was not always in-season, but when it's a classic or something that is timeless, you could get them at great savings. And that's where it began.
The other thing about eBay is that you get 'bitten' by the thrill of the chase, the thrill of the bidding process. When you have a hot item, it's like gambling. You're bidding against other people; you have no idea who they are and how many there are. It's a game to see who can get their bid in at the last second and win the item. When I won, it felt as good as winning the lottery. I'd beaten everyone out! I had the winning bid. I got the item and no one else did.
I'm the type of person that jumps with both feet, so when I started buying, I didn't start off small. I bought an Hermes Birkin bag for about $5,000, a Dries van Noten scarf, and a vintage Dior gown. I bought the most gorgeous cashmere shawl with beading and embroidery. I bought lots of designer gowns, they were just so beautiful, but I never ended up wearing any of them. I don't even know if the Birkin is real. If it's not, shame on the seller and shame on me. That purchase was pretty early on and I was not as well educated about fakes as I am today. Today I would never bid on something like that, but back then the thrill was more exciting than the possibility of it being fake.
I wasn't picky about what I bid on either, as long as it was a beautiful piece. It was never about need for me–I was very fortunate that every one of my needs was already met. I didn't need any of this, I was just thrilled to have something so beautiful in my closet. Plus, I had the money to spend.
The most ridiculous thing I bought was a long Russian sable coat for $9,000. Buying something like that online is a risk, and I didn't have any occasions to wear it. I did have it appraised by Neiman Marcus later and it's real. And I got it for a very, very good price (sables can go for $50-$100k). It's bittersweet because it's a beautiful coat in beautiful condition, but I've hardly worn it.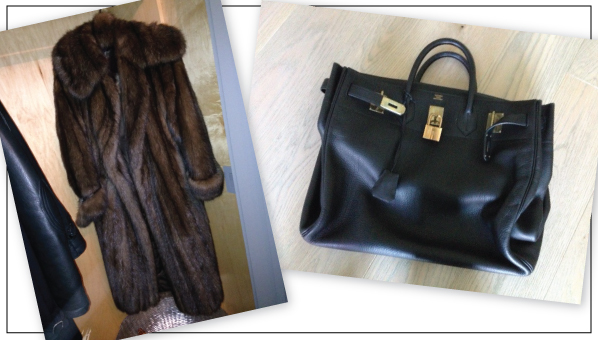 Some of Nadia's eBay purchases: a Russian sable coat, Hermes Birkin bag. 
At this point I was already obsessed with playing around on the web, so I started to use Google to find other things I wanted, things like kitchen tools. Once I saw that I didn't have to go out and buy things like that in a store, I started to find them online. I would search for a designer name or a store name and see what came up. Back then e-commerce wasn't nearly what it is today. The sites were just not as developed, so I don't remember the names of the sites I used, but I do remember that some were international. Materially, the world opened up for me.
It was just so easy–all you had to do was push a button, and anything you dreamed of was at your doorstep within days. I went through a phase of buying Martha Stewart cookie cutters because I like to bake. Then I developed an obsession with the Pillsbury Dough Boy. I'd order anything with that little character on it, like pencils, Pez dispensers and cookie jars. It was just so easy to obtain all of this stuff.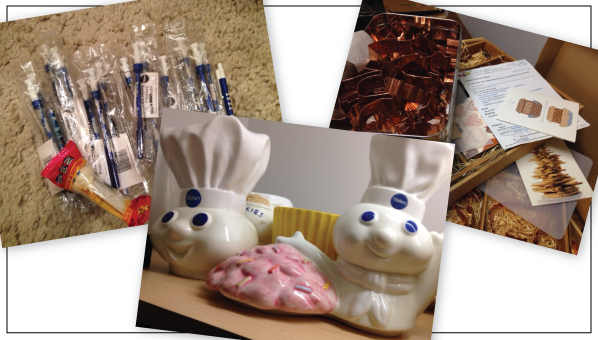 Nadia's collection of Pillsbury Dough Boy collectables. 
Like a true addict, I kept this habit concealed. There were weeks when I would get a box delivered every day. I didn't want my husband to find out, so I'd hide them deep in my closet. I didn't use most of what I was buying anyway, so nobody noticed the collection I was amassing. Occasionally, he'd notice something new and I would just tell him, "You know what, I wanted it and I can afford it and so I got it." My way of looking at it was–why should it bother you? If I'm not putting pressure on you to get it for me, you should be happy that I'm buying it for myself. This emasculated him; it made him feel like he couldn't provide for me the way that I wanted him to. But I was a much more selfish person then. It was more about me and what I wanted. It was my own personal thrill and nobody had to know.
And I'm sure my kids would wonder what was going on at 6 o'clock when I was locked in my room instead of making them something for dinner, but I wasn't even thinking about that. As I said, I was a more selfish person then.
I think another reason that my shopping went unchecked for so long was because I was always able to pay my credit card bills at the end of the month. So, in my mind it wasn't a real problem. I was raised to think that if you don't have the money for it, don't buy it. I never got to a point where I was willing to put myself in hock and in debt, so I never took out a second credit card to support my habit. Thank God.
When the inheritance money ran out around 2000, I stopped. Not just because I wasn't willing to go in to debt but because I had been battling another addiction, simultaneously, for the last few years of my shopping addiction and when the money ran out the second addiction became my focus. It sort of overtook the shopping addiction. (Nadia received treatment for alcoholism in the early 2000s.) 
I was forced to get help. I went through counseling and therapy and that's when I was able to kind of fit together the puzzle of why I was doing things that I was doing, why I was always trying to stuff that void with material things. Shopping was just a manifestation of what was really bothering me or how I was really feeling. Any addiction, whether it's drugs, alcohol, sex, shopping, what have you, it's a manifestation of a bigger issue and it's up to the individual, when they realize they have a problem, to be willing to get to the bottom of it.
Since going to treatment, my life is so much happier. My relationships are happier. My relations with my kids are better than they've ever been, and my husband, too.
I don't like to think about how much I spent over those six years, because it's water under the bridge, but it was close to a hundred grand. I can never get that money back, but now I have something way more valuable than the money back; I have control of my life back.
Today I can say that I don't have that urge to obsessively shop. I still shop online, but now I buy a few things and only hit the purchase button after letting things percolate overnight. I think before I click and usually I don't end up buying what I thought I'd wanted the night before. I'm much more mindful. I don't buy things just to have things anymore. When you're gone, people aren't going to say, "Well, she always had the it bag."  There are more important things in life.
*Names have been changed