Some of you might be familiar with Glossier from their cool-girl images on Instagram. If you haven't heard of the cult skincare brand yet, I'm here to convert you. I recently tried their first-ever face wash, Milky Jelly ($18), and it seriously rocks.
Just over a year ago, Glossier and Into the Gloss founder Emily Weiss asked readers, "What would your dream cleanser look like? Smell like? Feel like? Do for you?" The comments section proceeded to blow up (obviously), with suggestions like adding seaweed extract or making it algae infused. From there, Milky Jelly was born and as Drake says, "nothing was the same." Well, at least for my skincare routine.
What makes this face wash so good comes down to a few factors. First, for me, I'm not a huge fragrance person. Sure, I like to smell nice, but sometimes products tend to have a scent that violates my nostrils. Milky Jelly is not like that. It is technically fragrance-free, but there is a slight hint of rosewater, which is one of the key ingredients. It's a simple floral scent that is not overpowering.
Another reason I am making Milky Jelly a permanent addition to my life is because it doubles as a makeup remover. Face washes before have claimed (operative word here) to remove stubborn mascara or eyeliner. But we all know the black smudge tends to linger for a day or two after washing. Milky Jelly does remove makeup. Just apply to dry skin and gently massage 2-3 pumps onto your eye area. You can also do the same to wet skin in the shower. If the makeup is waterproof, then use a cleansing oil first, followed by Milky Jelly.
Now, the icing on the cake is that this cleanser makes your face SO SOFT. Like, I've always had pretty smooth skin, so I didn't think it could possibly get any smoother but, IT DID. This probably has to do with the fact that the cleaner is made from a blend of five skin conditioners. Seriously, I catch myself stroking my face sometimes and thanking the Glossier crew for this game-changing creation.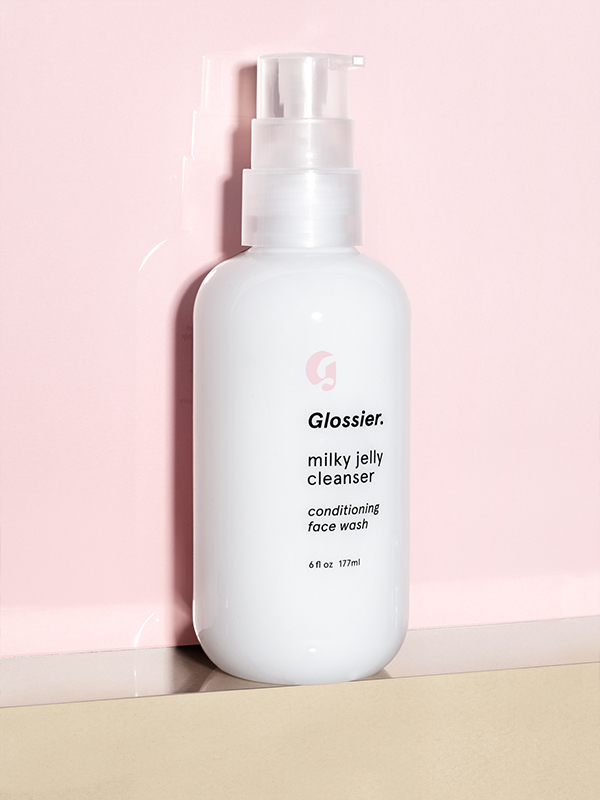 Milky Jelly ($18)
Don't forget to check out: "I stopped using body wash and this is what happened" and how to cover a pimple the right way
[Photo: Glossier]