As we inch closer to Father's Day, we're leaving with you one final gift idea straight from a real dad. And trust us, this one won't disappoint!
Fred Fabricant–our marketing director, Julie Fabricant's dad–is an IP attorney who maintains a corporate/casual style Monday through Friday. He loves sports, vinyl and being a Cards Against Humanity champ–all while sipping on a glass of single-malt scotch. His perfect evening includes cooking on the grill with his girls–he has three daughters!–and jamming to David Bowie. Here's what he's hoping for this Father's Day.
SHEfinds: What's your fondest Father's Day memory?

Fred Fabricant: Brunch at home on Father's Day with the griddle fired up. The menu? Bacon sizzling, pancakes bubbling and multiple Bloody Marys (extremely spicy, lots of horseradish and with a pickle, obviously).
SF: What are your plans for this Father's Day?

FF: Rather than brunch, we'll probably fire up the grill Sunday evening and weather permitting, have the family over on the back deck, followed by music and drinks around the fire pit. As for the menu, probably marinated skirt steaks, spicy brats, and a few burgers.
SF: Anything special on you wishlist for this Father's Day?

FF: I could use a new outdoor grill. I plan on gifting the one I have to my son-in-law for their backyard because it's time for him to start BBQing for his family.
SF: Are there any traditions that your father passed on to you that you passed on to your children?

FF: Spending Father's Day together with the family around a good meal. I think many of the traditions I have passed on to my daughters are inspired by my father. He was a butcher and owned a supermarket–in addition to being a radio singer in the 1930s!–so our love of food and music comes from him. Another tradition is the Sunday night call. Call your parents on Sunday night!
Now, you can probably guess the ultimate, no-fail Father's Day gift is this Kenmore 4-burner gas grill with folding side tables from Sears. Really–what dad wouldn't love this bad boy?!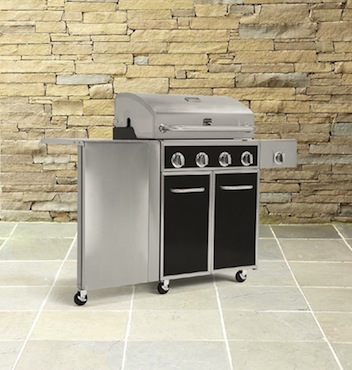 Kenmore 4 Burner Gas Grill With Folding Side Table

While you're shopping, don't forget to enter the "Snap Your 'Stache" contest by Sears and Shop Your Way. You have until June 15 to post a selfie of your dad and his facial hair for the chance to win a trip to MAKEcation℠. Hey, you'll even get $5 in Shop Your Way points to treat yourself. Get creative if daddy dearest doesn't sport a cool beard. Paint one on, draw it… just don't let anything stop you from heading to sears.com/DestinationDad to enter the contest and vote for your favorite and if you need any inspiration check out this video with some of the fun entries so far.