I'll be the first to admit that I did not use sunscreen at all when I was younger. When I was in high school, my friends and applied baby oil and baked in the sun for hours. In fact, I'm pretty certain we used Crisco one time (vomit). Thank gawd that's not the norm these days. And yes, I'm horrified that I spent almost ten years doing stupid sh*t like that. My dad used to get on me all the time, asking if I'd applied SPF. Ew. Why would I ever apply that white stuff that shields the sun? So I'd lie and say yes, and then be on my merry way with my dark tanning oil. I needed the best tan ever and SPF was def not going to do the trick. Between tanning beds and cooking in the sun, i'm surprised my skin looks as good as it does.
Full disclosure: I religiously wear sunscreen now–even though I don't love the way it feels. And I've learned that you can get a really nice sun-kissed glow with SPF. Which brings me to the point of this post: I was browsing around Target last week and noticed a sunscreen oil with SPF 50 from L'Oreal. It immediately made me think back to my dumber younger years, so I bought it. It smells incredible, isn't greasy and just so happens to be super nostalgic to me. And although I was scared I might fry in the sun and start looking like Tan Mom, it did indeed protect. If only this would have been around 15 years ago. You live, you learn, right?
And seriously, if you hate the idea of slathering on white sunscreen, you should check out this amazing new product: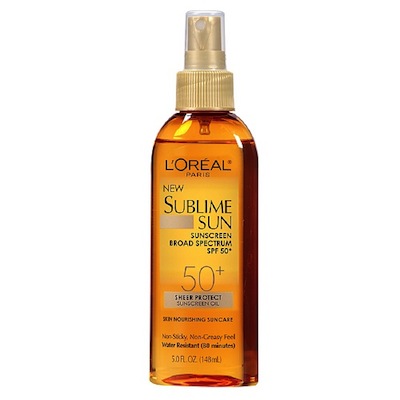 L'Oreal Sublime Sun Sheer Protect SPF 50 Sunscreen Oil Spray ($8.24)
For more beauty news, check out the best facial products for hangovers, Chanel's cult nail polish and how to get ready in 5 minutes now.
[Photo: Shutterstock]