We all know when the seasons change, it can be very drying for our skin. This is especially the case when the weather changes from warm to cold. For me personally, my skin gets really dry when going into the colder months and I rely heavily on moisturizers and facial masks. A brand-new product that I'm super excited about is from L'Occitane and it's called the Divine Mask, which is part of the coveted Divine skincare line. The Divine Mask doubles as a moisturizer and a mask, and it's all you need to get your skin through the fall season.
The Divine Mask will preserve the skin's healthy glow while intensely moisturizing and nourishing. With five patents pending, this mask is guaranteed to do wonders for your skin as it helps fight the visible signs of aging, along with reducing the appearance of an uneven skin tone. As a form L'Occitane employee, I can personally say how truly wonderful the entire Divine skincare line is. This new mask is filled with immortelle essential oil, shea butter and cistus extract. It even comes with a 24K gold-plated applicator to increase circulation!
Don't just take my word for it. Celebrity makeup artist Andrew Sotomayor says, "This mask is like a deep conditioning treatment for your skin. You can use overnight once per week or every night for a week as an intensive treatment to help skin transition during seasonal changes in weather or before big events like weddings and red carpets. The texture is softer than other masks, so it can be massaged into skin easily, and the special 24K gold plated massaging applicator will boost microcirculation and skin breathing while you sleep for a more rested, soft appearance."
Buy your Divine Mask below and get your skin prepared for the colder temperatures!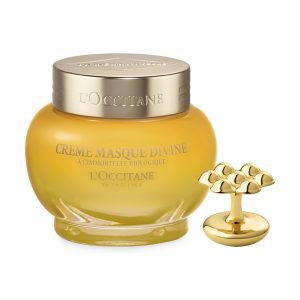 Divine Mask ($145)
Don't miss your chance to win a free L'Occitane Divine Cream and find out what the "baking" beauty trend is!
[Photo: L'Occitane]