The vibrant colors that filled Thakoon Panichgul's Spring/Summer 2012 runway collection—a bold mix of India-meets-the-Wild-West—will be available next month through Thakoon for NARS Nail Collection. The six-shade limited edition collection, on sale at $18 each at narscosmetics.com on May 1, are highly saturated and inspired by India's spice markets and annual Holi Festival with a super glossy and opaque finish.
After many seasons of working together, this is the very first nail polish and designer collaboration by NARS. Thakoon explains:
Once they saw the color board for Spring, it just made so much sense that we could be doing a nail project together.
The designer's favorite shade? The cyan-blue-hued 'Koliary.' "It's so fresh and unexpected."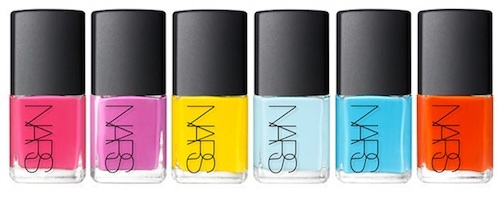 From left to right: Anardana (azalea pink), Ratin Jot (orchid purple), Amchoor (bright yellow), Kutki (powder blue), Koliary (cyan blue) Lal Mirchi (mandarin red)
Check out more fashion news and sales: Rag & Bone's debut swimwear collection, Alice Dellal for Chanel Boy handbags, and what to buy at the ASOS spring sale.