I am known as the "pizza girl" in my office. I even have Demeter's Pizza scent sitting on my desk, which actually does not smell like a delectable $1 slice or good at all, yet I can't bring myself to remove it. I am by far not the only person my age who is obsessed with "za."(Yes, it has a nickname.) From Cara Delevingne's pizza box clutch and Katy Perry's pepperoni onesie to Buzzfeed's How Obsessed With Pizza Are You?, it's clearly a generational thing. So for those of you who just don't or can't understand the fixation, let me explain it:
Me and pizza go way back. My first memory of it is from a movie called Toy Story (ever heard of it??). I was just 4 when the film came out, so I was a little young to fully understand what was going on (toys…come to life?!), but there is one thing I do remember, the scene where Woody spots the Pizza Planet truck, aka his way back home to Andy.
[youtube]https://www.youtube.com/watch?v=LGc894z7IPg[/youtube]
I'd like to think of this as mine and my peers introduction to pizza. Not just in the sense of what the food is, but how it is more than just that. To Woody, it is a way out of the mess he made with Andy's new toy, Buzz Lightyear. At this point in my (very short) life, I did not yet have my "moment" with pizza. More on that later.
Growing up, pizza was always the first meal of choice for my family once Passover officially ended each year. This tradition started in both of my parent's homes when they were kids and I plan to keep it in the family. But as much as I appreciated the cheesy bread as a teen, absolutely NOTHING compares to the way it made me feel in college.
The endless late night food options around campus were dangerous–literally, like a hazard to my health. Crepes, diners, McDonald's, you name it. But what I craved most at 2am was a slice of pizza. My go-to was obviously Boot Pizza, conveniently attached to the bar across the street from school. Anyone who goes/went to Tulane or visited a friend there knows exactly what this is. The pieces are bigger than your face and oh.so.good. But my first bite of this "slice of heaven" (literally what it says on the side of the takeout window) wasn't the moment I knew pizza was my favorite food.
I studied abroad my junior year–no, I did not go to Italy. I was actually in Copenhagen and my program was absolutely phenomenal (DIS, highly recommend it). They gave us two weeks off in the middle of the semester to travel. Kind of like spring break, except we were in Europe and it was November…so no tropical destinations. Three friends and I packed our bags and said "Peace out, Copes!" for the next 14 days.
The first leg of our trip was Italy. The country actually got a whole week out of our vacay since it was that important. You know, museums to visit and gelato to eat, that kind of pertinent stuff. On the fourth night, we arrived in Rome only to find out our hostel was on the outskirts of the city. It was getting late, we were tired, but also desperate for food. We ended up at this place a friend recommended called Baffetto, which was a 40 minute cab ride away, mind you. We ordered three pies between the four of us, but come the end of that last pizza, we all looked at each other and knew without saying it–we were going for fourths. That was the night I finished an entire pizza myself and had zero regrets. I did something I had never done, nor did I think I could ever do. But still, that was not my "moment."
Yes, Bill Murray. Yes.
The moment I realized pizza and I would be togetha4eva was last September. I was fresh out of college and back home in NYC interning here at SHEfinds. One day, my bosses took me outside to talk. I wasn't exactly sure what was coming. I'd been hoping to be hired full-time, but leaving the office to have a discussion had me worried. We walked about two blocks to 2 Bros. Pizza (anyone who's been to Manhattan has passed one of these $1 joints) and that's when it happened. I got my first real world job offer. In front of an authentic New York City pizza place. CAN LIFE GET ANY MORE PERFECT??? Needless to say, my parents and I celebrated with a lot of za later that night.
As they say, a picture is worth 1000 words–and this pretty much sums up in one image how I felt that day:
I am Kanye, clearly.
Luckily, I am not alone in my pizza obsession, which makes it all the better. My friends are just as in love as I am. It is not uncommon for us to text each other pizza memes at 4pm on a Wednesday. True story: the day I was assigned to write this post, a friend emailed me an article about the Push For Pizza app created by five 19-year-old dudes (obvi). She didn't know I was going to be declaring my love for the food here; she sent it to educate me and my other friends on a service that is like Uber for pizza. Thank god for that, amirite?
Millennials DO upload pictures of our slices to Instagram, but not for the likes. It's to make the rest of you freakin' jealous that we're enjoying a fat 'ol slice of ZA!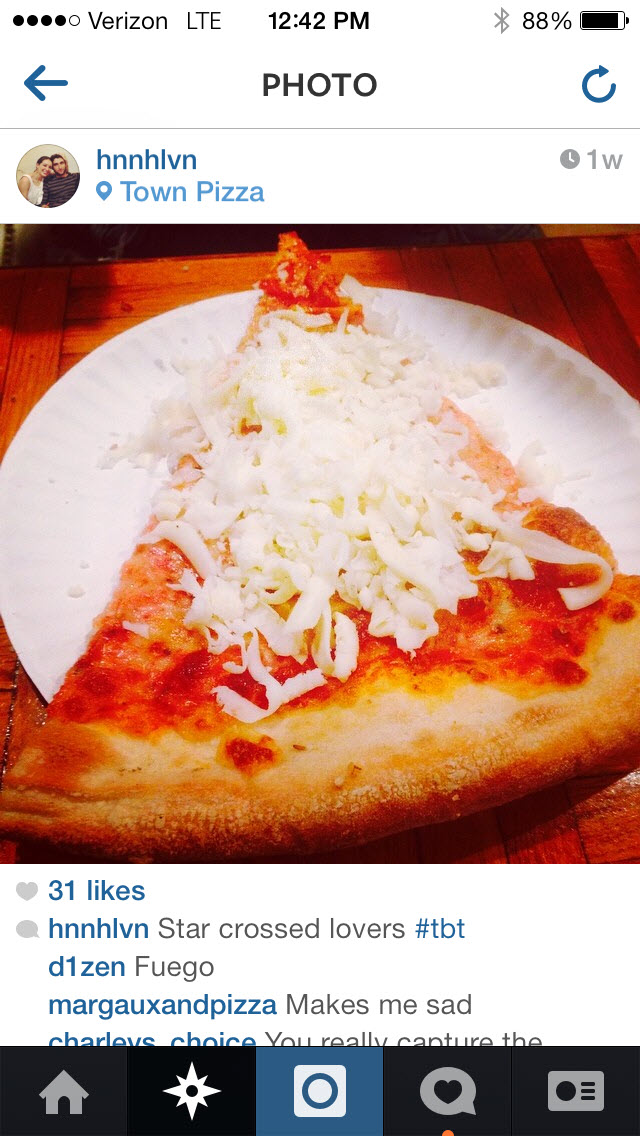 My roomate's za is en fuego. 
So to all you bloggers and celebs who pretend to like pizza, but really just pose with it as an accessory for likes (see @youdidnoteatthat), I ask you this: "Have you had your 'moment' with the food? What was it?" If you're looking for some drool-inducing inspo, definitely start following the dudes of @infatuation? It's a favorite among millennials for epic food pics, like this:
And for your pizza viewing pleasure, Ryan Gosling eating a slice in slo-mo:
[youtube]https://www.youtube.com/watch?v=EfeCpfxGPgw[/youtube]
And never forget:
Sorry, Kate Moss.
Do you love pizza as much as me or is their another food close to you heart? Let us know in the comments!
And don't forget to check out: 13 clothing brands celebs love, find out where this fringe bag is from and why Pretty Little Liars is the best show on TV